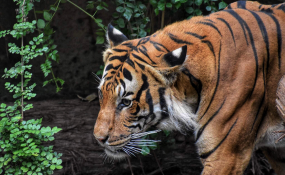 Photo: Pexels
analysis
By Don Pinnock
South Africa is one the world's biggest exporters of endangered tigers, almost all of which end up as floor mats, wall hangings or skeletons submerged in vats of Asian tiger-bone wine. The trade is so lucrative that city householders in Gauteng are breeding them in their backyards.
Because they're not an indigenous species, trade in tigers is unregulated and flying below the radar of the DEA (Department of Environmental Affairs). When asked about it by Ban Animal Trading and the EMS Foundation, the DEA response was that tigers weren't the department's responsibility because they're "exotics". In reply to a request for information on tiger breeding facilities, Limpopo DEA wildlife director Sam Makhubele said the department had never been approached and he seemed surprised that they even existed.
However, 2015 a TRAFFIC/Wildcru report, Bones of Contention, estimated there were at the time 280 tigers in 44 facilities in South Africa. Today there are undoubtedly far more, but because tiger breeding doesn't have to be reported, numbers are hard to establish.
A shock report by Ban Animal Trading and the EMS Foundation -...