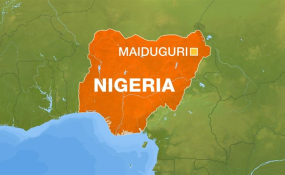 Photo: Premium Times
Troops of the Nigerian Army are currently locked down in a gun battle with Boko Haram terrorists in Maiduguri, the Borno state capital.
The insurgents made their way through cashew plantation to Polo area of the capital city.
Zainab Kamali, a resident told TheCable, that the insurgents struck in Jidari area of the metropolitan city around 5pm.
Residents of Jiddari polo area are in a panic and are fleeing the area.