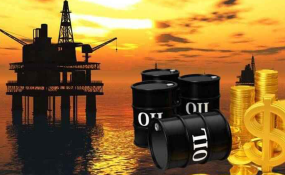 Photo: Vanguard
By Isiaka Wakili
The National Economic Council was on Thursday told about the depletion of the balance in the Excess Crude Account (ECA).
Lagos State Deputy Governor, Oluranti Adebule, told State House reporters after the NEC meeting chaired by Vice President Yemi Osinbajo that the Accountant-General of the Federation, in his presentation, put the balance in the ECA at $1.829 billion as of April 23.
Our correspondent reports that the Excess Crude Account stood at $2.3 billion as of February 14.
Adebule also quoted the Accountant-General as putting the balance in the Stabilisation Account at N14,226,835,000. It was N11,290,664,060.06 in February.
The current balance in the Natural Resources Account was put at N134, 912,870,000. It was N123,624,644,411.24 in February.