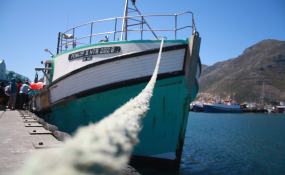 Photo: Jerry Chifamba/allAfrica
Maputo — Mozambique's Minister of Industry and Trade, Ragendra de Sousa, on Wednesday led a government delegation to inspect work on the new Beira fishing port, which is now 97 per cent complete.
The original fishing port was wrecked in a cyclone in early 2000. Reconstruction and rehabilitation of the fishing port costs about 120 million US dollars, provided by the Chinese government. Work on the port began in mid-2017, and is expected to be complete in June.
With the new facilities, Beira will be able to harbour simultaneously 16 industrial fishing vessels, rather than the current eight, according to a report on the independent television station STV.
The current Beira installations can only handle 300 tonnes of fisheries produce a year. But the rehabilitation includes a state-of-the-art cold store complex, and these preservation facilities will enable the fishing port to handle 70,000 tonnes of produce a year.
Sousa said he was impressed by work on the new port. "We will have many economic gains from this port, including the creation of new jobs", he said. The preservation facilities, Sousa added, meant that the produce handled in Beira could be exported to markets in Asia and Europe.
"Large ships, and also cargo planes, will stop at Beira to transport our fisheries produce", he predicted. "This will bring foreign currency to the country. As for ourselves, we will be able to eat tuna and other high quality fish".
He noted that in September last year a business delegation from Thailand had visited the port of Beira, and had promised that Thai companies will invest in Beira.
Its contacts, not only with Beira, but with Sofala province in general, led the Thai delegation to believe there are investment possibilities in agriculture and tourism, as well as fisheries.