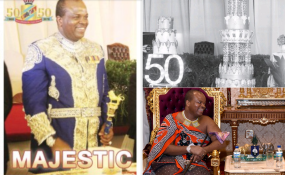 Photo: allafrica.com
opinion
It is not only King Mswati III, Swaziland's absolute monarch, who displays his vast wealth about his person. His family are the same.
He wore a watch worth US$1.6 million and a suit beaded with diamonds at his 50th birthday party. He did this while children in his kingdom are on the verge of starvation and are only kept alive by food donated from abroad.
Days before his birthday King Mswati took delivery of his second private jet plane. This one, an A340-300 Airbus had a purchase price of US$13.2 million, but with VIP upgrades it reportedly cost about US$30 million.
The King has 13 palaces and fleets of top-of-the-range Mercedes and BMW cars. Meanwhile seven in ten of his subjects estimated to number 1.1 million live in abject poverty with incomes less than the equivalent of US$2 per day.
The King is not alone in brazenly showing off his wealth. His family are not shy either. King Mswati has married 15 wives, but with death and defections it is believed the number remaining might now be 13.
A Facebook page called Swazi Royal Family Leeches has been monitoring the bling count. Here are some of its findings.
King Mswati's daughters, Siba, Tiyandza and Sikhanyiso are pictured with a friend on vacation in Cancun, Mexico. Tiyandza, daughter to King Mswati and Queen LaNgangaza, is wearing a 47 mm 18K Pink Gold Ballon Bleu De Cartier watch worth US$58,500 (E760,500).
In the next picture Queen LaFogiyane is wearing a Jacob & Co Fully Iced Diamond watch that retails at US$120,000 (E1.56 million).
Queen LaMahlangu has a Jacob & Co Brilliant Skeleton White Gold watch worth US$46,996 (E610,948).
The King's first-born child Princess Sikhanyiso wears a Jacob and Co World Is Yours Five Time Zones 47 mm Diamond watch with a price tag of US$9,999 (E130,000).
Many of the watches worn by the Swazi Royal Family come from Jacob & Co. In December 2015 the Mail & Guardian newspaper in South Africa reported there was 'strong evidence' King Mswati was 'in business' with the company's owner Jacob Arabo, whom it described as 'a wealthy Uzbekh-American jeweller who has done jail time for lying to federal investigators about his alleged links to a multimillion-dollar drug ring'.
The business centred on a gold mining venture in northern Swaziland called Lufafa Mine Pty Ltd.
The Mail & Guardian reported, 'Arabo, known as "Jacob the Jeweller" and the "King of Bling", is a purveyor of flamboyant jewellery to clients ranging from the hip-hop industry to Hollywood and the sporting world through his firm Jacob & Co. He was arrested in 2006 at his flagship New York jewellery outlet on suspicion of tax evasion and laundering more than US$270-million in narcotics proceeds for a Detroit-based drug ring called the Black Mafia Family.
'Arabo was sentenced by a Detroit court to 30 months in prison for lying to investigators, fined US$50 000 and ordered to forfeit $2-million to the United States government. He was released from jail in April 2010.'
The newspaper reported at a 'consultative conference' at the Pigg's Peak Hotel in August 2015, Swazi Minerals Board chairperson Winston Lomahoza told the local media that the King owned 25 percent of the shares in the Lufafa mine, the government owned 25 percent and Jacob & Co the remaining 50 percent.
The newspaper reported, 'This conforms precisely with the requirements of the Mines and Minerals Act. Lomahoza added that he was "grateful that his majesty had allowed mining to take place yet again".'
The King holds 25 percent of all mining shares in Swaziland 'in trust for the Swazi nation' but it is widely believed he uses the money from the mining royalties to fund his own lavish lifestyle. The King does not pay tax.
The Observer on Saturday, a newspaper in effect owned by the King, reported in January 2016 that the gold mine on Lufafa Mountains, near Pigg's Peak in the Hhohho region, was estimated to contain 251,000 ounces of gold, said to be worth more than E4 billion (US$263 million). If that was the case and the mine was worked successfully the King's share would be US$65 million.
In October 2017 it was reported the mine had closed after allegations of poor management.