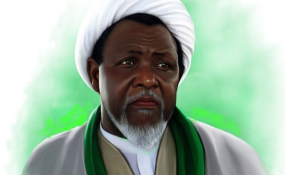 Photo: Mbazri/Wikimedia
Members of the Islamic Movement in Nigeria (IMN) has rejected the murder charges brought against their leader, Sheikh Ibrahim Zakzaky, his wife and two others by the Kaduna State Government.
Speaking with newsmen, Dr. Dauda Nalado on behalf of the Academic Forum of the Islamic movement, described the murder charge as ridiculous, a mockery and contempt of court, adding that "victims of murder are being charged with murder."
The group also condemned statement by the crown prince of Saudi Arabia Mohammad Bin Salman to international media on the success in "suppressing Sheikh Ibraheem Zakzaky and the Islamic movement."
"We wish to let the public know that we are fully aware of the role of Saudi Arabia and other countries that used Buhari-led government to kill Sheikh Zakzaky and annihilate his Islamic movement. Now that Riyadh has exposed itself, those that used Saudi Arabia to sponsor Zaria massacre shall be exposed in the near future. It is left to Muhammadu Buhari and Lawal Daura to muster the courage to come out and tell Nigerians the countries and individuals which used them to execute Zaria massacre and kill Sheikh Zakzaky," Nadalo said.
The IMN also condemned police attack on its members, who were protesting the continued detention of their leader, Zakzaky despite court orders.
"We strongly condemn the attacks of the Nigerian Police and Department of State Services (DSS). They continue to attack, harass, kill and arrest Free Zakzaky protestors in Abuja. From January 8, 2018 to-date the Police and the DSS have arrested more than 520 brothers and sisters of the Islamic movement including minors and pregnant women. On Friday 30th March, 2018 men of the Department of State Services (DSS) arrested Abdulaziz Dahiru Maigana in the National Mosque, Abuja around 2:00 pm during the protest. The Security agents have so far killed four free Zakzaky protestors in Abuja," he said.