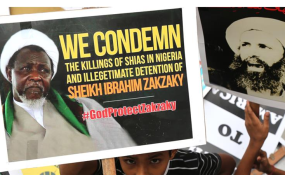 Photo: Al Jazeera
By Abdulwahab Abdulah
The decision to prosecute 259 members of Islamic Movement in Nigeria, IMN, by the Kaduna State Government without bringing soldiers responsible for the killing of more than 348 members of IMN to justice, has been condemned.
In a statement by Access to Justice, AJ, through its Director, Mr Joseph Otteh, the body challenged the Kaduna State Government for keeping silent on securing justice for the members of IMN killed in cold blood, day they had a rumble with the military in Zaria.
The state government had charged leader of the Shiite sect, El Zakzaky and three others, Zeenah Ibrahim, Yakubu Katsina and Sanusi Koki for offences ranging from road blockages with dangerous weapons, homicide, unlawful assembly, and blocking roads to prevent movement of the convoy of the Chief of Army Staff.
The offences were as a result of the December 2015 protests and clashes between members of IMN and the convoy of the Chief of Army Staff, Lieutenant General Tukur Buratai.
In the statement, AJ said it was surprised that despite government's promises to bring all that perpetrated the crisis to book, the government was charging the IMN members to court without any mention of the military men that killed the members.
"Despite promises made by Kaduna Governor, Malam El-rufai to use the 'Commission's recommendations in assigning administrative and criminal responsibility to those who allegedly participated in the violence' and 'to punish culprits,' his government has completely turned a blind eye to the atrocities perpetrated by the military in the clashes.
"The commitment of the Kaduna State Government to pursuing after justice for one life lost in the clashes between the Army and IMN members and not for more than 348 persons, is blatantly immoral, constitutionally and ethically repugnant to every precept of a democratic government.
"It is a revulsive and reviling social apartheid policy that ranks one life intrinsically superior to an aggregate of others.
"It is deeply unfortunate and troubling that the Kaduna State Government has now elevated to an instrument of state policy, the bare-faced social injustice of turning victims of a vicious, brutal murderous aggression into its perpetrators and treating the aggressors as victims and using the resources of the State and tax payers' money to pursue these reprobate discriminatory and recriminatory prosecutions.
"This is an ominous, foreboding cloud hanging over the rule of law in Nigeria. Our fundamental values as a constitutional democracy are being gravely threatened and imperilled. The Kaduna State Government does not have a moral or constitutional right to arraign El Zakzaky and others for homicide trial when it is not ready to prosecute and bring to justice, also, soldiers who summarily, wilfully and atrociously killed hundreds of Nigerians at their pleasure."