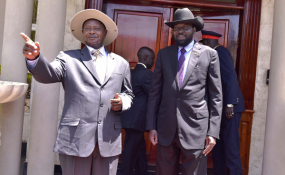 Photo: PPU
By Risdel Kasasira
Kampala — Members of the Sudanese People's Liberation Movement -In Oppostion (SPLM-IO) last night met President Museveni who was expected to fly to Juba today to meet President Salva Kiir.
The group is led by the deputy Chairman of SPLM-IO, Henry Dilah Iluya Odwar, who has been leading the SPLM-IO peace talks group delegation in Addis ababa.
The wife of Riek Machar, Ms Angelian Jay Teny, who is part of the group praised President Museveni for warm reception during the meeting of the SPLM-IO members in Bugolobi, Kampala.
"He received us well and we really appreciate his interest to have a stable South Sudan. I don't want to go into details but we had a good meeting with the president," said Ms Teny
Mr Odwar told the meeting that President Museveni was expected to meet President Kiir today.
In 2016, President Yoweri Museveni and South Sudan's Opposition leader, Riek Machar held a meeting to discuss peace in South Sudan, with the Machar assuring President Museveni that he was committed to a new chapter of peace.
"I want to start a new chapter of peace and friendship," Machar assured Mr Museveni who responded that he was available to support any peace initiatives to stabilize South Sudan then.