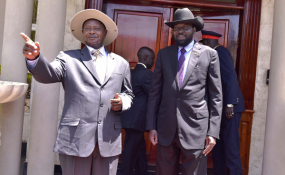 Photo: PPU
By Risdel Kasasira
Kampala — President Museveni yesterday flew to Juba to meet President Salva Kiir after holding talks with the visiting members of the opposition on Wednesday night.
State House said Mr Museveni also addressed the Fourth Sudanese People's Liberation Movement (SPLM) National Liberation Council Meeting where he advised warring factions to drop violence as a means of conflict resolution.
"When it comes to a political disagreement like we have here (South Sudan), we must have a scientific approach to its resolution," President Museveni said.
"Should it be resolved by force or other ways? Force should be reserved for the enemy. A disagreement among brothers should not be resolved by force," he added.
Machar delegation
Earlier yesterday, the members of the Sudan People's Liberation Movement-In Opposition [SPLM-IO] during a meeting with their supporters in Uganda said they had briefed President Museveni on the challenges they were facing in the peace talks that were postponed to this May 17.
The SPLM-IO group is led by the Movement's deputy chairman Henry Dilah Iluya Odwar, who is also the leader of the SPLM-IO Peace negotiating team. Mr Riek Machar's wife Angelian Jany Teny, who is part of 10-member delegation, praised President Museveni for "warm reception".
"I do not want to go into details, but President received us well and we are here as state guests. We appreciate his interest to have South Sudan back on its knees," Ms Teny said.
The delegation travelled to Uganda after the second round of peace talks was postponed by the IGAD Council of Ministers.
Both Mr Odwar and Ms Teny said they had told Mr Museveni about the need to release Mr Machar from "incarceration" in South Africa, release of prisoners of war and political detainees.
Political prisoners
They called for the release of Mr James Gatdet Dak, who was in February sentenced to death over treason and incitement against the State.
Mr Gatdet was deported from exile in Kenya and taken South Sudan, a move that criticised by the human rights activists.
"Juba is not willing to release political prisoners. The continued detention of James Gatdet and his illegal sentence is a clear evidence that they are not interested in peace," she said.
Ms Gatdet accused government of "committing genocide" in the South Unity State where SPLM-IO says there have been targeted killings.
"People have been stuck in swamps in South Unity State for the last one week... Even those in hiding are being targeted. The reason [for targeting them] is that because Chairman [Riek Machar] happens to come from there," she said.
Mr Odwar said Mr Museveni was in Juba to tell President Kiir the issues they had raised with him. "Today, he[Museveni] is going to be in Juba telling President Kiir the issues we briefed him about last night," he said.
Ms Teny, who was repeatedly referred to as the "First Lady of the Movement", got applauds from the SPLM-IO members when talked dismantling the current regime in Juba.