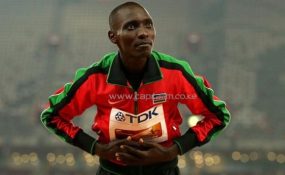 Photo: Capital FM
By Ayumba Ayodi
Three times World 1,500m champion Asbel Kiprop has sensationally claimed that World Anti-Doping Agency (Wada) officials extorted money from him when they came to collect blood and urine samples from him for testing last year.
Kiprop, 28, who is being investigated for doping, also alleged in a statement on Thursday that the two officials, who came to conduct the out of competition tests on him on November 27 last year in Iten, might have interfered with his urine samples.
Kiprop, who confirmed being investigated by the International Association of Athletics Federation's (IAAF's) Athletes Integrity Unit (AIU) said he was informed on February 3, this year that he had tested positive for a banned substance, blood boosting Erythropoietin (EPO).
Kiprop further claimed, in the statement through his lawyer Katwa Kigen, that he was told to admit he had doped and be rewarded with a doping ambassadorial role.
"I have been asked to admit that I doped so that I would be made an ambassador of IAAF on anti-doping. I have refused, as this is not only untrue but also a fraud. I do not need absolution on the allegations."
Kiprop said he could have marked himself absent or missed the out of competition test if indeed he had taken EPO. "I could choose to miss the collection without any consequences. Consequences for missing sampling meeting arise only after missing three times. I had not missed previously," said Kiprop.
'NO COMMENT'
Kiprop said that he was notified on November 26, 2017 by way of telephone call from an anti-doping agent to be available for doping test on November 27, 2017 at his disclosed whereabouts in Iten.
"I have no comments on Kiprop's doping case. The said officials don't work for us. That is for IAAF to address. They are its agents," said Adak CEO Japhter Rugut.
Top Athletics Kenya officials could not deny or confirm any doping case involving a Kenyan or Kenyans.
Kiprop is one of the biggest athletics star of his generation.
"I availed myself and the said officials came to the house alone being Doping Control Officers. I know them from previous samplings," said Kiprop.
Kiprop said that they arrived when I was still sleeping at 7.50am to collect the urine sample, and left slightly past 8.20am after the urine sample was sealed. "I declared my flu medication when the sample was being taken. I was in the house with a house-mate," said Kiprop.
Kiprop said that after giving the two officials the urine sample, one of the officials, who he named, asked if he could give them some money. "He did not specify how much they needed.
At 8.11am I forwarded to them money via M-Pesa," said Kiprop, before adding that he went to the bedroom where he send the money via M-Pesa to one of the officials.
"I did not at the time expect that the request for the money had anything to do with the sample."