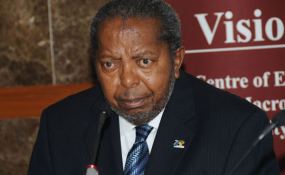 Photo: The Monitor
By Haggai Matsiko
Kampala, Uganda — President Yoweri Museveni is looking to replace his long-serving Bank of Uganda Governor, Emmanuel Tumusiime Mutebile. The Independent can exclusively report that Mutebile's replacement is likely to be a totally unexpected choice.
Highly placed sources at State House, who could only speak on condition of anonymity because of the sensitivity of the matter said the process of vetting the next governor of the central bank kicked off in mid-April with Museveni's head-hunters contacting some of those in the running.
Mutebile's job is the most coveted in Uganda because of the prestige attached to it. The governor is also the highest paid government worker--earning over Shs53 million per month according to a May 2015 report by House Committee on Commissions, Statutory Authorities and State Enterprises (COSASE). The position also comes with a lot of independence to exercise unfettered influence on the direction of the national political economy.
As in the past, Museveni is looking at individuals of impeccable character and strong finance management pedigree to match. It is, therefore, not surprising that some of the top lieutenants at BoU and the Finance Ministry are candidates.
Deputy Governor Louis Kasekende and Secretary to the Treasury Keith Muhakanizi are in the race for obvious reasons, while former Director Economic Affairs at the Finance Ministry, Lawrence Kiiza, is an unexpected though not surprising candidate. The real surprise candidate being considered is little known Micheal Ating-Ego, who is a Deputy Director at the International Monetary Fund (IMF).
Insiders say Museveni is looking for someone who can restore local and international confidence in the central bank whose reputation has over the last few months suffered due to multiple scandals.
Mutebile, who was first appointed to head BoU in 2001, is in the second year of his five-year contract, which was renewed in January 2016. If the governor's contract is allowed to run it will end in 2021 at which point Mutebile would have made 20 years as the head of BoU.
For most of this time, Mutebile has been recognised locally and internationally as a performer. The American (USA) Biological Institute recognised Mutebile as an outstanding contributor to Uganda in 2009. In 2011 and 2013, the Africa Banker Magazine and African Investor Group (Ai), respectively, named him the Central Bank Governor of the Year in Africa.
And going by the central bank's core strategic objectives upon which Mutebile likes his performance to be judged: controlling inflation, regulating the banking sector, and protecting overall stability of the financial sector, many might struggle to challenge his competence.
Apart from 2011 when inflation hit the highs of 30 percent, Mutebile has kept inflation in check for almost two decades--it currently is at 5.7 percent just about the target.
On regulation and supervision of banks, Mutebile likes to boast that although some private banks have collapsed under his watch, BoU has intervened effectively and avoided contagion of the sector and ensured the safety of customer deposits.
Based on this, Mutebile believes that BoU has succeeded in delivering on its core mandate of protecting depositors and the stability of the financial system.
However, over the last few months, fights amongst key staff, with the board, the Finance Ministry, the Inspectorate of Government and even parliament, have mounted debilitating pressure onto Mutebile's leadership and the reputation of the central bank.
Mutebile has said that BoU has put in place robust systems that ensure that all its key officers "are all held to the highest possible levels of integrity". But lately, the claim that individuals of high integrity regulate Uganda's financial sector has become shaky.
For instance, Mutebile fired Justine Bagyenda, then-executive director Banking Supervision, in a cloud of improper conduct. Then he brought in one Tumubwiine Twinemanzi as a replacement but ran into trouble for alleged non-compliance to BoU recruitment procedures.
Since her sacking, Bagyenda's bank records have leaked revealing that she allegedly has been holding billions on accounts in local banks. The figure has been flagged as suspicious wealth for a public servant like her.
Ironically, it has emerged that even when Bagyenda represented BoU on the board of the Financial Intelligence Authority (FIA), the same body was investigating her over financial related crimes.
Bagyenda is also at the heart of BoU's controversial takeover and sale of Crane Bank.
Only two years before its acquisition, Crane Bank had posted profits in the range of Shs50 billion. Many members of the public questioned how BoU could declare such a bank, which was among the four biggest by deposits, to have collapsed overnight.
Even experts such as Joseph Bossa, who worked as BoU's counsel, said publicly that BoU's move was baffling.
"How do you explain that a bank, which is ranked as best performing, closes a few years down the road like it has been struck by lightning?" said Bossa, "Someone must have slept on the job."
Opposition stalwart and legislator Nathan Nandala Mafabi was more brutal. Demanding a full investigation into BoU's activities, Mafabi said most of the mess in Crane Bank gained immunity due to collusion, corruption, insider trading and fraud that went undetected or was covered up.
The BoU sale of Crane Bank assets to DFCU Bank has also stirred its own controversy.
Sudhir's lawyers have questioned how the assets of Crane Bank, which they put at Shs1.3 trillion were undervalued before being sold to DFCU for a paltry Shs200 billion, moreover not cash.
In defence of the central bank, Deputy Governor Louis Kasekende, who was at the centre of the transaction has said that BoU did not sell Crane Bank, "because no one would have bought a bank with a negative net worth of this magnitude".
Kasekende's claim has been found to run counter to a BoU report that said up to 10 clients had been locked in a vigorous contest to buy Crane Bank.
However, to get to the bottom of the controversy, parliament had ordered the Auditor General (AG) to investigate the manner in which BoU has taken over and sold assets of seven banks since 1993. While the AG was unable to investigate the Crane Bank case, because BoU did not furnish them with the requisite information, they found that BoU had undervalued assets of some of the defunct banks.
In December 2007, the AG reveals, BOU signed an agreement with Nile River Acquisition Company to sell the debt portfolio of Greenland, ICB and Cooperative banks at US$25 million (approx. Shs.8.9 billion currently). The debt portfolio, however, comprised of secured, poorly secured, unsecured, and unknown loans amounting to Shs135 billion.
"I observed that there were no guidelines/regulation or policies in place to guide the identification of the purchasers of defunct banks," the AG writes, "In the absence of guidelines of the sale of banks, there is a risk that bank assets may be sold at a loss arising from conflict of interest between BOU staff and the potential buyers."
The AG's wording on conflict of interest was deemed pertinent, direct, and timely as the Crane Bank saga raged.
The conflict of interest the AG is warning about has also been at the centre of the Crane Bank saga. Court last year threw out MMAKS and Bowmans, the lawyers who advised BoU over the transaction over conflict of interest.
MMAKS advised Crane Bank at the same time it advised BoU. Bowmans advised BoU and is now listed amongst DFCU lawyers according to the bank's confidential documents The Independent has seen.
The audit firms at the centre of the deal have also been accused of conflict of interest--they audited Crane Bank when it was owned by Sudhir and severally gave it a clean bill of health.
But, by the slip of a hand, when a few months later they audited the same Crane Bank on behalf of BoU, they found problems.
One of these firms is now one of the DFCU auditors.
Bagyenda, who was at the centre of plotting and executing most of these deals is said to be perilously close to Timothy Masembe Kanyerezi of MMAKS, who at one point represented Sudhir, BoU, then DFCU.
Meanwhile the taxpayer stands to lose over Shs300 billion that BoU pumped into Crane Bank before taking it over and the subsequent court battles it is embroiled in over the same.
On the other hand, DFCU Bank, which purchased the assets and assumed the liabilities of Crane Bank, recently announced a profit growth to Shs127 billion in 2017 up from a paltry Shs23 billion in 2017. Most of this money was made off the Crane Bank deal.
If Mutebile leaves BoU before close of the year, his departure will be linked closely to his transferring of over 50 top officials of the Bank. The move in February shuffled nine executive directors who are just two tiers below the governor, 13 directors, and 24 assistant directors.
The shuffle, which also saw Bagyenda kicked out, followed a host of internal scandals at the bank; including bungled procurements and recruitment, collapse of critical banking sector systems, allegations of officials colluding with private banks to milk billions of shillings from BoU, undermined roles, and corruption cases and mismanagement.
Mutebile's transfer of staff was met with defiance, even at board level, and some staff and board members petitioned the Inspector General of Government (IGG) to block the transfers and investigate the central bank.
Matters only normalized after a March 27 meeting at State House Nakasero, where President Yoweri Museveni ordered the IGG not to intervene. He instead directed that a special committee solve the crisis.
Museveni told the officials to keep BoU issues out of the press--a pointer that he was getting concerned about the implications of the bad press surrounding the bank.
This is not the first time talk of Mutebile being kicked out of BoU is emerging. There was wild speculation that Mutebile's goose was cooked in 2011 when he faced calls for resignation after testifying before Parliament's adhoc Committee investigating the management of Uganda's oil sector. Mutebile controversially revealed that President Museveni had directed him to draw an unbudgeted US$750 million from the Treasury to buy Russian fighter jets in the midst of an inflationary economy. The deal was criticised at many levels; it came in after an election, costs appeared inflated to enable skimming off to finance campaigns, and appeared to breach central bank independence.
When his contract expired in 2015, Mutebile is said to have survived because of the prevailing political winds; former Prime Minister Amama Mbabaza announced abruptly that he would challenge Museveni in the 2016 elections and Museveni is said to have sought to placate Mbabazi's tribesmen by retaining Mutebile at BoU.
But these scandals have over time seen Mutebile, an economist once praised for steering Uganda's economic stability from the doldrums of the 1980s, turn into a subject of ridicule, branded as a regime lackey, and called to resign by critics.
Further blotches to Mutebile's tenure at the bank include his almost single-handed building up of the fortunes of city businessman Hassan Basajjabalaba. Between 2005 and 2011, BoU allocated more than Shs300 billion to the tycoon from the Treasury to pay debts, taxes, and subsidise his Kampala International University.
In reality, the older scandals were not of Mutebile's making--mostly he was following Museveni's directives. But the latest ghosts haunting Mutebile have very little to do with Museveni. And this might explain why he is now looking to drop his banker.
Brief profiles of the candidates to replace Mutebile at BoU
Despite his many weaknesses, BoU Governor Tumusiime Mutebile's shoes might be too big for many.
Museveni's decision to seek to replace him comes at a very critical time for Uganda's economy. Tough decisions need to be made and, insiders say, Museveni needs a governor who can say it straight. Mutebile is a straight talker.
Sebastian Mallaby, in his book 'The World's Banker: A story of Failed States, Financial Crises, and the Wealth and Poverty of Nations', described Mutebile as " the chief architect of Uganda's success story and the greatest contributor to Africa's struggle against poverty in his generation."
Profiling Mutebile, Mallaby treated Mutebile as a man of equal caliber to the book's main subject, then World Bank President James Wolfensohn.
Mallaby said because of Mutebile, by the end of 1986, President Museveni had yielded to the IMF and World Bank economic reform policies of structural adjustment, stabilisation, liberalisation and privatisation - leading to one of the most dramatic transformations not only of an ailing economy, but also of the World Bank's engagement with developing countries.
As the search for new governor heats up, insiders have been mulling over the qualities of those in the running and pointing at what Museveni and his handlers will need to consider. Many say Museveni needs the counsel of some of the biggest brains in central banking. He also must get someone with "guts" and "some management abilities". That position was pushed by Paul Volcker (former chairman U.S. Federal Reserve).
According to The Economist, sometime in 2008, Volcker, Stan Fischer (Bank of Israel governor), and Jacob Frenkel (Fischer's successor) discussed the most essential trait of a central bank head at a conference. Fischer and Frankel agreed that having an economics PhD was a plus.
But a 2016 paper titled 'How Do Central Bank Governors Matter? Regulation and the Financial Sector', by Prachi Mishra and Ariell Reshef, concluded that past work experience was critical as it shapes central bankers' beliefs and preferences, which, in turn, are consequential for policy outcomes. So how do the candidates measure up?
Deputy Governor Louis Kasekende
In the current race, Deputy Governor Louis Kasekende should be paces ahead.
Quite young and agile at 59, Kasekende, has been seen as the natural successor to Mutebile.
The economist rose through the ranks to become the Director of Research, Executive Director of Research, and Policy and finally DG.
From May 2006 to 2009, he served at the offices of the African Development Bank (AfDB) as Chief Economist.
In January 2010, Dr. Kasekende was re-appointed Deputy Governor of the Bank of Uganda. Insiders say his understanding was that he would succeed Mutebile. The magic year was supposed to be 2015, when Mutebile's contract expired.
And all indications were that Kasekende would bag the job. Mutebile's health had deteriorated and talk was that he was no longer capable of dealing with the rigours of heading the central bank.
Unfortunately, for Kasekende, politics came to Mutebile's rescue.
Former Prime Minister, Amama Mbabazi, who had since fallen out with President Museveni threw his hat in the presidential race.
In Mbabazi and Forum for Democratic Change (FDC)'s Kizza Besigye, Museveni was now facing two strong candidates from Greater Kigezi. Having lost Mbabazi, Museveni appointed Ruhakana Rugunda, another Kigezi stalwart, as Prime Minister.
President Museveni also figured dropping Mutebile, who comes from Kigezi region could cost him the Kigezi vote. He consulted about whether he could appoint him for only two years--until after the election--but was told it had to be five years. That is how Mutebile got a renewal for another five years and Kasekende lost the shot.
This sparked a silent cold war between the two men, which appeared to get out of hand this year.
Insiders say the bank has been divided into two major camps--the Kasekende camp looking to eject Mutebile and the Mutebile camp looking to defend the governor at whatever cost. Indeed, insiders say, it is these divisions that fueled fights over transfers, which sucked in the IGG, parliament and President Museveni. And many feel that the same will shape Museveni's final decision.
Keith Muhakanizi
The current Permanent Secretary and Secretary to the Treasury, Ministry of Finance is a well-known figure and strong candidate.
If Museveni picks his current PSST for the BoU Governor job, he will have continued a tradition where the PSST becomes the BoU governor. Mutebile was previously a PSST.
Lawrence Kiiza
Kiiza retired from the Finance ministry quietly in 2017 and has stayed away from government noise and little is known about him.
But in 2016 at the requiem mass of former PSST Chris Kasami, President Museveni mentioned Kiiza amongst only four Ugandans who he said had helped him manage the economy.
The other three he thanked were former PSST and Auditor General, who now sits on the BoU board, James Kahooza. The other two were the late Kasami and Mutebile.
Of all these, Kiiza was the most junior. That is why Museveni's action kicked off protests at Finance. "How could he thank only Kizza?" some senior officials wondered. Insiders say Finance Minister, Matia Kasaija was forced by senior staff at Finance to ask Museveni to recognize the others later at another meeting.
Kasaija waited for the moment and brought the matter before the president at a meeting at State House Nakasero. "Mr. President at Kasami's requiem mass you only recognized a few people yet many have been working hard," Kasaija told Museveni.
"Mmmmmm!," Museveni mumbled before shooting back, "Are you the one who tells me who to recognize?"
Kizza would later leave the Finance Ministry in 2017. Even back then, speculation was that he would be named PSST, Finance Minister, or BoU Governor.
Ating Ego
Ating Ego is little known. But according to some, his work in the high echelons of IMF should count and his experience at the IMF is associated with reform-mindedness. He previously worked as the Executive Director Research at Bank of Uganda.
While others are reading into reports that he is set to depart from the IMF to the Macroeconomic and Financial Management of Eastern and Southern Africa (MEFMI). Others say his appointment would also be seen to break the western stranglehold over the national finance sector.