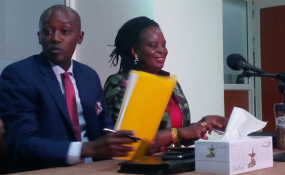 Photo: The Observer
By Godfrey Ssali and Urn
Kampala, Uganda — Justice Catherine Bamugemereire has issued fresh summons for Lands Minister Betty Amongi after she failed to appear on Monday as requested by Uganda's Commission of Inquiry into land matters.
The Chairperson Land Probe Commission Justice Bamugemeire threatened to order for the arrest of the minister if she doesn't make herself available Tuesday April 08, 2018 by 9am.
This is the second time that Amongi has not responded to a Lands Commission summons asking her to appear to record a statement in relation to accusations that she used her office to acquire property belonging to a Ugandan Asian's family.
Officials at the commission say Amongi has neither personally or through her lawyers communicated why she did not appear today as per the criminal summons.
Bamugemeire added that, the warrant of arrest will be served to the prime Minister, speaker of Parliament, Inspector General of police and all the borders of this country to secure her attendance.
Minister Amongi is wanted by the probe team to explain her involvement in the running of the Land fund and how her company AMOBET investments Ltd acquired land located on Plot 29 Acacia Avenue that is allegedly belonging to an Asian family.
Toshak Patel , an Asian property owner last week testified before the commission that Amongi, through a company which he later discovered belongs to the minister, attempted to evict him from his family property located in Kololo.
Patel told the commission that before the expulsion of Asians from Uganda by then President Idi Amin, his grand parents were the registered proprietors of Plot 29 on Acacia Avenue which was later entrusted to the Departed Asian Properties Custodian Board .
Patel claims that in 1995, his family returned to Uganda and his mother Mandakini Manubai Patel re-possesed the said property, appointing him as care -taker of the property. He added that he then rented the property off to Midcom Ltd, a local telecommunications company.
According to Patel's complaint, his family was asked to vacate the property in 2017, in a letter from a company called AMOBET Investments Ltd.
The letter stated that the land had never been re-possessed and therefore it automatically reverted back to government.
Patel further claims that a February 15, 2018 letter signed by Amongi on the Ministry's letter head summoned him, through his lawyers Bitangaro and Company Advocates, to appear at the ministry headquarters for questioning in relation to the alleged forged documents including a land tittle and a certificate of re-possession regarding the contentious property.
Patel told the commission that he then instructed his lawyers to first carry out a search at the registrar of companies to establish the legitimacy and ownership of AMOBET Company.
That a check at the Registrar of companies revealed that minister Amongi owns 66% of AMOBET company and the remaining 44% belongs to a one Cate Odongo.
Patel testified that the above revelations clearly show that minister Amongi is using her position to steal his family's property valued at Shs5 billion.
Bamugemereire further wanted in respect to complaints made to the Commission, that instead of honest claimants like senior citizen Mzee Francis Gureme and Presidential Advisor John Nagenda among others to be compensated for their land, its con men benefiting from the said fund.
The ex service nen aged between 90-114 years fought the two World Wars and are appearing in person to testify to this effect.
The Bamugemereire Commission has heard from various witnesses that Uganda land Commission may have lost billions of shillings from the Land Fund through connivance with the Lands Ministry officials.
The Commission of Inquiry into land matters has been in place for a year. It started its work in in early May 2017.
It is led by Justice Bamugemereire. Other members of the commission include, Robert Ssebunnya; Mary Oduka Ochan; Joyce Gunze Habaasa; Dr. Rose Nakayi; Fredrick Ruhindi, - the immediate past Attorney General; and George Bagonza Tinkamanyire.
The Land Inquiry Terms of Reference:
Investigate and inquire into the law, processes and procedures by which land is administered and registered in Uganda.
Investigate and inquire into the role and effectiveness of the Uganda Land Commission (ULC) in administering public land and the Land Fund.
Investigate, inquire into and review the effectiveness of the relevant bodies in the preservation of wetlands, forests and game reserves and examine ways in which the challenge of human habitation in those areas can be resolved.
To investigate, inquire and solicit views on the role of traditional, cultural and religious institutions who own large tracts of land with occupants in a bid to enhance better landlord/tenant relationships.
To assess the legal and policy framework on Government land acquisition.
To identify, investigate and inquire into the effectiveness of the dispute resolution mechanisms available to persons involved in land disputes.
To inquire into any other matter connected with or incidental to the matters aforesaid and make recommendations.
The Commission shall make recommendations:
For improving the efficiency and effectiveness of the law, policies and processes of land acquisition, land administration, land management and land registration in Uganda and proposing necessary reforms.
Pertaining to civil, administrative and criminal sanctions against persons found culpable for wrong doing.