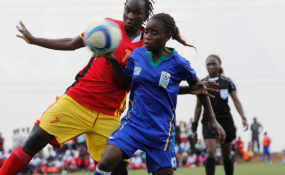 Photo: Aminah Babirye/Daily Monitor
By Cellestine Olilo
Eight women's national football teams from the region, including Kenya's Harambee Starlets, will be forced to break off camp immediately following the postponement of the Cecafa Women's Challenge Cup that was to take place from May 12 to 22 in Kigali, Rwanda.
The decision to postpone the tournament was taken by the Rwanda Football Federation (Ferwafa) on Tuesday, as it had yet to receive money meant to host the competition from Cecafa as earlier promised.
"With just a few days to the start of the tournament initially set for Saturday, May 12, 2018, Ferwafa has not received funds to host the tournament from Cecafa as agreed last month despite repeated correspondences and calls to Cecafa Secretariat requesting hosting funds to be availed to ensure the smooth organization of the tournament.
"Ferwafa will take a decision to host this tournament upon reception of hosting funds. At that time, both Ferwafa and Cecafa will sit to decide on the suitable dates when this tournament will be staged," read a communiqué released by the Rwanda federation on Tuesday.
Efforts to reach Cecafa Secretary General Nicholas Musonye were futile as his phone went unanswered and he only sent an SMS saying he would call later.
Musonye took issue with the Confederation of African Football (Caf) on Friday last week, saying that thy were yet to release the requisite funds allocated for the tournament by Fifa, although he promised that everything else was in order to facilitate a smooth tournament.
Kenya, Uganda, Ethiopia, Tanzania, Djibouti, Burundi, Zanzibar and the hosts had all reported to camp in their respective countries in preparation for the tournament which was to make a comeback after a year-long hiatus.
Starlets had been camping at the Ruiru Stadium in Kiambu County in preparation for the ten-day tournament.
This is the second time that the tournament has been postponed, as it was initially scheduled to kick off in December last year right after the men's version held in Kenya.
Until last week, five nations among them Kenya, Uganda, Ethiopia, Tanzania and Djibouti had confirmed their participation, while Burundi and Zanzibar were expected to send their confirmation by the end of this week.
The tournament was to be held at the Nyamirambo stadium in Kigali, and was to be bankrolled by the Rwandan government in partnership with "local well-wishers" who were yet to be disclosed.
The Cecafa Women's Championship was last held in September 2016 in Jinja, Uganda, where the Kilimanjaro Queens of Tanzania emerged champions after beating Kenya's Harambee Starlets 2-1 in the final.