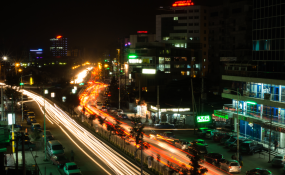 Photo: Jean Rebiffé/WikiMedia
By Fasica Berhane
Ethiopia has longstanding commercial, cultural, and people-to-people ties with Saudi Arabia. It was also the first country to embrace companions of the Prophet Muhammad in the 7th century from the persecution they faced under rulers of Mecca.
Even though the two countries established diplomatic relations in 1948, the tie was limited to people-to-people before the pre-1991 period. Taking in to account Saudi Arabia's enormous economic potentials, the current Foreign Affairs and National Security Policy and Strategy gives the utmost priority to make the country Ethiopia's priority export destination and a major source of Foreign Direct Investment (FDI).
In its endeavor to make Ethiopia attractive to FDI globally, the government has hugely invested in massive infrastructural development, and has put in place viable policies and strategies to form a conducive business climate for foreign companies. The government's huge involvement has paid off in luring large-scale Saudi investment in manufacturing, agriculture, agro-processing, mining, hospitality and other priority sectors.
Ethiopia's missions in Saudi Arabia have also been hugely engaged in fostering the economic partnership, and they are hosting various trade missions and discussions with Saudi stakeholders. The Embassy is taking part in the annual Riyadh Travel Fair to seek markets for the country's agricultural exports and promote its wider investment opportunities among potential stakeholders.
According to Saudi Arabian Ambassador to Ethiopia Abdullah Faleh Alarjani, the high-level exchange visits made between the two countries have given great momentum for the bilateral relations. He said that Ethiopian delegation headed by the former Prime Minister Hailemariam Dessalegn made a very successful visit to Saudi Arabia back in 2016, where he discussed with high-level Saudi officials including King Salman bin Abdulaziz Al-Saud on various issues.
Similarly, Foreign Minister Dr. Workneh Gebeyehu and former Labor and Social Affairs Minister Abdelfattah Abdullahi also concluded successful visits to the Kingdom in 2017, paving a way for the two countries to reach a labor deal that is expected to have a paramount importance in ensuring the rights of Ethiopian domestic workers, and in regulating contractual obligations among Saudi employers.
On the Saudi side, high level delegation came to Ethiopia to identify investment areas for Saudi investors. Saudi Arabia's Minister of Environment, Water and Agriculture Abdulmohsen Al-Fadhli paid frequent visits to Ethiopia and held talks on ways to bolster Saudi investors involvement in the agriculture and livestock sectors. Similarly, Ahmed Al-Khateeb, Senior Advisor at the Royal Court in the Royal Kingdom of Saudi Arabia paid a visit to Grand Ethiopian Renaissance Dam to look for possibilities of Saudi investment in Ethiopia's renewable energy sector.
"These visits have resulted the signing of various agreements, and contributing to take the overall Ethio-Saudi relations to new level," Ambassador Abdullah noted.
By the same token, the Ethio-Saudi Joint Commission, which was established in 2002 has remained a key factor in enabling the two countries reach various agreements in social, economic and political frontiers.
Last April, the fifth Ethio-Saudi Joint Ministerial Commission meeting was held in Addis Ababa to seek cooperation in the field of mines, petroleum and gas, and to commence direct and indirect electric power connection between the two countries. During the event, Agriculture and Livestock State Minister Dr. Kaba Urgessa and Saudi Arabian Deputy Minister of Animal Resources Hamid bin Abdulaziz Al-Batshan reached an agreement to scale up Saudi's live animal and meat imports from Ethiopia.
Apart from being among the leading source of FDI, Saudi Arabia is one of Ethiopia's primary development ally. Ambassador Abdullah stated that the country has extended a sizable finance to back Ethiopia's road and rural electrification projects and has so far financed three road projects, namely the Asosa- Kurmuk and Azezo- Metema (Both connect Ethiopia with Sudan) and Geddo- LemlemBerha in Oromia State. The Jijiga- Degehabur Rural Electrification Project in the Ethiopian Somali State was also financed by Saudi.
The Ambassador said: "I hope there will be more projects to be financed, and development cooperation from the Kingdom to Ethiopia will be consolidated in the future."
Despite the two countries ever-increasing economic ties, the level of engagement is largely unsatisfactory when compared with Ethiopia's untapped potential and geographic proximity as well as Saudi Arabia's enormous capital.
Too much dependence on few exportable agricultural items coupled with shortcomings in export quality and quantity are widely considered to be factors contributing to this.
Likewise, bureaucracy and infrastructural setbacks are regarded as major challenges facing Saudi investors.
In this regard, keeping quality of exports and diversifying commodities are the necessary tasks that need to be undertaken in order to seize Saudi Arabia's potential for agricultural exports. Furthermore, building certified abattoirs and improving quality of slaughtered cattle and availability of transport is crucial to become a dominant figure in Saudi meat market.
Ethiopian missions in Saudi Arabia should extend their leading role in promoting country's investment opportunities by partnering with the relevant bodies of the Kingdom to encourage potential investors to come and do business.
Furthermore, signing investment protection and promotion agreement, easing bureaucratic challenges and improving infrastructure as well as ensuring quality service delivery are also measures Ethiopia needs to take to attract a meaningful Saudi investment.
Capitalizing on their geographic proximity and synergistic economic potential both countries should maximize their partnership. By doing all this, it is believed the two countries historical relations, which was commenced by welcoming followers of Prophet Muhammad, will transform to strong trade and investment cooperation and herald the second chapter in the Ethio- Saudi ties.
BY BILAL DERSO
Job creation for youth continues upward trend
According to the Ministry of Education, in Ethiopia more than hundred thousand youths graduate each year from the 33 higher education institutions and other private and public TVET colleges. That seems a big number for a developing country, or it may even raise a question like where would all these young people find work, since high unemployment rate is one of developing countries nightmare.
However, according to a recent report by 'Trading Economics', one of world's leading reference in economic data,Ethiopia is doing just fine in decreasing unemployment rate and creating job opportunities despite high number of graduates and job seekers.
The website has reviewed Ethiopia's status in decreasing unemployment from 1999 up to now whilst putting forward future predictions to 2020. According to the report, unemployment rate in Ethiopia decreased to 16.80 percent in 2015 from 17.40 percent in 2014. Meanwhile, unemployment rate in Ethiopia averaged 19.88 percent from 1999 until 2015, reaching an all time high of 26.40 percent in 1999 and a record low of 16.80 percent in 2015.
While Ethiopian Central Statistics Agency report expects Ethiopia's unemployment rate to be 16.40 percent by the end of this quarter, Ethiopia's unemployment rate is projected to trend around 13.20 percent in 2020.
These and other reports and results show that the approach taken by the government in giving due emphasis to job creation and encouraging entrepreneurship in the last decade has been the right move.
Youth at work
The Government has implemented various national strategies, among them the Federal Micro and Small level Enterprise development strategy, which aimed to alleviate poverty and decrease unemployment as well as benefit the youth and improve citizens livelihood.
The government has also allocated billions of birrs to specifically support the youth. For instance, this year the federal government has allocated 10 billion birr in indirect loan fund for the youth, targeting job creation and entrepreneurship.
The Federal Urban Job Creation and Food Security Agency is among the major institution that work closely with the youth, and execute the program at the federal and regional level.
The Agency was established in 2016 by council of ministers, aiming to support and coordinate institutions that assist, promote and develop micro and small enterprises in urban agriculture, construction trade and service sectors and improve citizens livelihood.
This reporter recently approached the Agency's communication director for explanation regarding the 9 month performance report and achievements in addressing the youth's demand for training and fund.
Assefa Ferede, Director of Communications with the Agency, disclosed that during its 2 years journey, the Agency has achieved various achievements in job creation, ensuring food security, in terms of improving the livelihood of citizens who are unable or unemployed, and also in strengthening new emerging enterprises.
In addition to decreasing urban unemployment and poverty, the Agency also targets readying citizens for future industrial development of the country, and various works have been undertaken at federal and regional level for the past 9 month, he said.
According to him, 1.4 million youth have been able to get a job this fiscal year through the Agency.
"Of the Agency's plan to register 1,941,080 citizens in all regions, more than 1.85 million youth were recruited, and given training the fund needed to initiate their own business venture. 86 thousand 469 of them are TVET graduates, while 32,861 were university." The report of the Agency reveal that 31 percent of those given training and fund are females.
In all regions, 3,337,983 youth were selected and given training following procedures of registration and selection. Accordingly, by organizing themselves in a group of five, they are able to get financial loan that would enable them to initiate their own business venture in various sectors, once their business plan is endorsed by financial enterprises and the Agency.
As a result, 1.5 billion birr was transferred to 108.747 youths organized in 18,174 enterprises in the last 9 month, of which 68,002 are male, and 40,745 are female.
Consequently, in terms of the work sector that absorbed the most number of youth is huge the government and public mega project by hiring 475,969 young people, while the manufacturing and service sector hired 112,943 and 224,250 youth. While the construction sector performed better than all, by achieving 90.6 percent of its projected plan, in general, 1,235,235 jobs were created for citizens from regular and public and mega projects during the third quarter performance.
When compared to last year's performance, which saw more than 1.17 million young people getting a job, this year's performance has exceeded that by 5.2 %, he added.
According to him, 5.5 million youth benefited so far, while the plan is to benefit 8.4 million youth until the end of GTP II.
Under its food security program, the Agency has created job for more than 210 thousand youths in seven cities, including Addis Ababa (55 Weredas) Hawassa, Adamma, Dessie, Dire dawa, Mekelle, Jigiga, where 75% of the beneficiaries were women.
Regarding food security, the Agency carries out a five year long, three phase urban food security programs in 11 chosen cities, where they plan to benefit more than 250 thousand urban residents in the second phase program.
All in all, the agency disclosed that 1.4 million jobs is created within the third quarter of the fiscal year, which is in tune with the plan set, and believe that the upward projection of job creation will continue. This comes as a good news especially in terms of maintaining and giving an impetus to the employment rate.