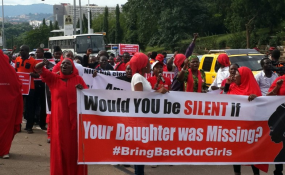 Photo: Premium Times
By Cletus Ukpong
The #BringBackOurGirls group, Wednesday, raised questions which they want the federal government and the Nigerian army to answer over the claim by the army that it has rescued 1,000 people said to have been held captive by the Boko Haram terrorists.
The army through its spokesperson, Texas Chukwu, said on Monday that the people rescued were held hostage in some villages in Bama Local Government Area of Borno State.
Mr Chukwu, a brigadier general, said the hostages were mainly women, children and young men who were forced to become Boko Haram fighters.
The #BringBackOurGirls group, which is non-profit, has been putting pressure on the Nigerian government to find ways of bringing back home more than 200 schoolgirls abducted in April 2014 in Chibok, Borno State.
More than 100 of the Chibok girls have either escaped or freed by the Boko Haram so far, while others are still believed to be in captivity.
The #BringBackOurGirls group in response to the latest development, however, said the announcement by the army "as exciting as it sounds, raises grave concerns".
In a statement signed by a former minister of education, Oby Ezekwesili, and two other leaders of the #BringBackOurGirls, the group raised four questions which they want the government and the army to provide answers to.
"The military has over the last 18 months regaled the country with reports that the terrorists have been 'totally defeated', how is it then possible for a defeated group to have capacity to hold 1,000 of our citizens captive?
"Even more pertinent for the future, 'How many more of our citizens does the Federal Government know may still be held captive by the terrorists?
"Is there a system for further verifying and confirming the true identities of the 1,000 citizens and a process including transparent plans for reuniting them with their families and communities?
"Can the military and Federal Government immediately publish print and electronic images of the 1,000 compatriots rescued?" the group asked, in their statement.
The group said reporting of abductions, rescues, and deaths deserve much more seriousness from the government and the army, adding that the federal government had in the past frustrated the group's attempt to establish a "Missing Persons Register and Bureau".
"Citizens must never accept opaque claims by our government without appropriate public scrutiny.
"The troubling record of contradictory statements by our military and government instruct caution on the part of the Nigerian public to be more circumspect in our reaction to mass rescue claims and such like," the group said.