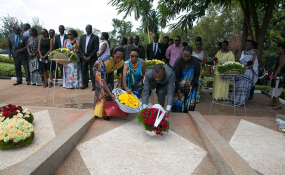 Photo: New Times
By Eddie Nsabimana
The President of 72nd Session of the United Nations General Assembly, Miroslav Lajčák, on Tuesday paid tribute to Genocide victims laid to rest at Kigali Genocide Memorial.
The memorial is home to 250,000 Tutsi victims.
After laying the wreath at the memorial's mass grave, Lajčák, who had earlier on Tuesday addressed the opening session of the ongoing Transform Africa Summit, was guided to different parts of the memorial, which hosts records about Rwanda's history before, during and after the Genocide against the Tutsi.
Within just 100 days, over a million innocent lives were killed in the Genocide.
"Very powerful message. Testimony of international community's failure. Let's make sure it never happens again!" Lajčák, who is also the Slovakian Minister of Foreign Affairs, wrote in the visitors' book.
Addressing the media after the visit, Lajčák said, "I wanted to come here to visit this place and pay my respect to the victims, to say once again on the behalf of the international community that we failed, people of Rwanda did not do well and therefore many innocent people lost their lives but we will make sure this never happens again".
Lajčák said he was impressed by Rwanda's progress after recovering from the Genocide over the past 24 years.
"I am also encouraged to see Rwanda today. It is incredible how much progress achieved here; the country has a vision and can serve as an inspiration for many other countries. The history is very tragic but the present and the future creates many hopes and that is very positive," he said.
He urged the international community should learn from what happened in Rwanda and stop back to back wars.
"I wish the world was able to learn more and faster because we seem to be set on repeating the mistakes and tragedies. I would suggest some politicians to be brought here to visit this place to see the consequences of being irresponsible".
Before and during the Genocide in 1994, several appeals to the UN to reinforce the peacekeeping mission that was deployed in Rwanda at the time, fell on deaf ears, instead, the small peacekeeping force that was on ground was pulled out.