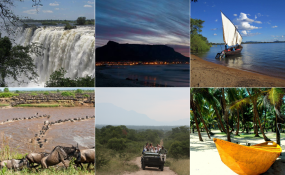 Photo: allafrica.com
By Isdore Guvamombe
Zimbabwe, which has a record 51 companies exhibiting at the African Travel Indaba in Durban, South Africa has become the centre of attention as tourist wholesalers, buyers, investors and tour operators flock to seek investment, travel and tourism opportunities under a new political dispensation.
At no stage in history has Zimbabwe taken that big number of companies to Indaba, the highest being 19 in 2017 but this year the figure has grown to 51, forcing a spillage that has seen many companies exhibiting outside the main stand, that can only accommodate 32 companies.
Both the main stand and individual stands dotted over the indaba have become a hive of activity with many companies inquiring about the country's vast array of tourist attractions, saying they have confidence in the new political dispensation under the banner of "Zimbabwe is Open for Business."