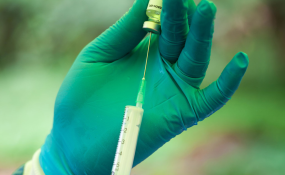 Photo: OMS / S. Hawkey
Saurimo — The eastern Lunda Sul province is intensifying epidemiological actions on border with Democratic Republic of the Congo (DRC), aimed at preventing Ebola virus from entering Angolan territory.
The information was released Wednesday in by the acting director of the Provincial Health Office in Lunda Sul, Gomes Txipilica.
"In view of human trafficking and trade activity on border zones, we will reinforce our surveillance teams, mainly on Cassai Sul and Chiluange border," Gomes Txipilica told the journalists.
He explained that the institution recently held a meeting with the traditional authorities from neighbouring DR Congo to outline measures and strategies on the epidemic.
So far, no case of Ebola virus has been reported in the region, he concluded.