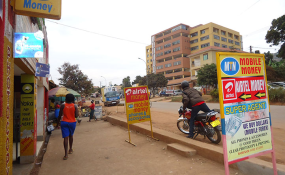 Photo: The Observer
By Josephine Namuloki
A total of 116 legislators have signed on the petition against tax proposals on mobile money transactions.
MPs on parliamentary forum on public finance management and that of Greater North parliamentary Forum launched the collection of signatures with the aim of petitioning the speaker of parliament Rebecca Kadaga.
A section of MPs including deputy opposition leader of opposition Roland Mugume Kaginda (Rukungiri Municipality), Gaffa Mbwatekamwa (Kasambya), Okin Ojara (Chwa West) and John Baptist Nambeshe (Manjiya) told journalists at parliament that they hope to collect 320 signatures by end of this week.
According to the legislators, the proposal to levy 1% tax on the value of transactions-payments and withdrawals on mobile money in the financial year 2018/19 national budget estimates will reverse the move towards financial inclusion.
Since the proposal to introduce a levy on the mobile money transactions was mooted, civil society organisations and the public have argued that the tax on mobile money transactions will hurt the poor and vulnerable and will frustrate financial inclusion since most districts in Uganda lack access to banking services. However, more than 10 million Ugandans access financial services through mobile money.
"Why would they tax mobile money? For us, we think it's a bad idea as you know most of the rural areas don't have banking institutions and majority of them rely on mobile money financial services," Kaginda said.
"This tax will increase the cost of sending and receiving money which will negatively affect the value chains in agriculture, access to energy, utilities, trade services and Uganda could suffer a reversal of gains towards financial inclusion," Kaginda added.
Mbwatekamwa said that the tax proposal could promote money laundering and other black market operations and thereby proposed that the ministry of finance increases the excise duty from the proposed 10% to 17.5% on mobile money withdraw fees to generate Shs 122 billion.
According to Mbwatekamwa, while his proposal will fetch Shs 33 billion less than what could be generated from the 1% tax on transactions; it will avert numerous economic disasters.
"Would I save money on mobile phone when I know they are going to tax it? When I know that when I am carrying my cash, I will not be taxed. If this tax goes ahead, I am seeing very many people who have been in mobile money business lose their businesses and turn dangerous to the economy's security," Mbwatekamwa said.
According to Nambeshe, taxes are all over and too much for Ugandans to bear and that the move to tax mobile money transactions does not include Ugandans in the financial sector since the economy is doing badly and government is not working on making it better.
"If you are to frustrate financial inclusion in Uganda, then expect those low-income earners not to sit silent. Are you aware that you are driving the mobile money users into crime because many people would prefer money laundering as a last resort? This will be a disaster," Nambeshe said.
Chua West MP Okin Ojara said that government should first conduct studies and plan before proposing tax measures including the one on the ban on importing old vehicles.