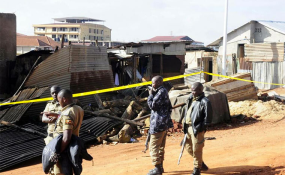 Photo: The Observer
By The Independent
Kampala, Uganda — Usafi mosque in Kisenyi on April 28, a total of 36 people suspected of involving in acts of terrorism and radicalism were arrested.
The operation by the police together with other security agencies was done after an investigation into the kidnap and murder of Susan Magara, granddaughter to former first Prime Minister Henry Kajura gave them leads to a suspect at the mosque.
According to Police Spokesperson Emilian Kayiima, two lives were lost during the scuffle between police and the suspects. "Two suspects were shot dead as they tried to fight our operatives.
We had received credible intelligence that one of the key suspects whose name we shall not reveal now to protect the investigation of the late Suzan Magara, run to Usafi mosque in Kisenye having known that was being tracked," he said.
The suspects were found with 60 rounds of ammunition, 23 double edged machetes, a bow and a laptop.