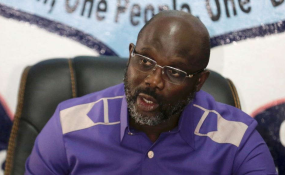 Photo: VOA News
By A. Omaska Jallah
President George Weah has withdrawn five investment incentives and concessions agreements that were submitted by former President Ellen Johnson-Sirleaf for ratification by the legislature.
The Dangote Cement Liberia Limited, TIDFORCE/LICEMCO, Nimba Rubber Incorporated (NRI), Liberia Traffic Management and Amendment to the Amended Firestone Agreement were among several other bills submitted to the legislature by the former president in her latter days as president.
President Weah said the agreements were recently reviewed by the Special Presidential Review Committee (SPRC) to assess and ascertain whether they are in compliance with the procedural and substantive requirement of the Liberian Law.
However, he said legal requirements in the mentioned agreements were not adhered to; referencing the amendment of the Public Procurement and Concession Act of 2010 which he said was violated.
Another reason for which the five bills were withdrawn by the President, according to his communication, is to evaluate the justification including benefits to the Liberian people and the nation for the tax and other incentives granted.
He said the categories of tax relief, impose GST, turnover, presumptive fuel and gasoline, withholding on interest, dividends and third parties services were either partially or fully granted to the concessionaires without any showing of measurable benefits to Liberia and its citizens.
Most of the agreements, the President said, do not seemed to have been meticulously prepared as there were a number of avoidable typos and misinformation, while exhibits referenced in the agreements were not attached.
Meanwhile, the House of Representatives has endorsed the President's request to withdraw the mentioned agreements.