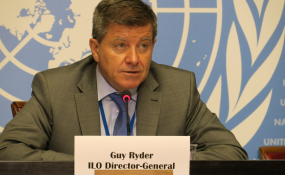 Photo: Peter Kenny
By Peter Kenny
Geneva — President Cyril Ramaphosa is to join a top-level Commission on the Future of Work, set up by the International Labour Organization in 2017, the ILO has said.
Ramaphosa will co-chair the 28-member Commission, together with the Prime Minister of Sweden, Stefan Löfven, the ILO said in a statement on 10 May.
"South Africa and the ILO have a very close relationship, and I am sure that the South African President will bring to the Commission's work the values of freedom and dialogue that he has defended his whole life," said ILO Director-General Guy Ryder.
"They are key to the future of work we want and a global economy that works for all."
The global body is assessing the rapid transformations taking place in the world of work, and identifying the key challenges and what must be done to make the future of work better and fairer.
"The Global Commission is grappling with one of the most important and pressing challenges of the modern global economy. If we are to improve the lives of people across the world, we need to prepare collectively for a new world of work," Ramaphosa was quoted as saying in the ILO statement.
Ramaphosa replaces Ameenah Gurib-Fakim, former President of Mauritius, who resigned from her chairmanship earlier this year.
As co-chair of the Global Commission on the Future of Work, he will work with Löfven to oversee the preparation of a major report on the future of work which will be published in early 2019.
The next meeting of the Commission is scheduled to take place on 15-17 May 2018 in Geneva.
The Commission was set up under the ILO's Future of Work Centenary Initiative launched by the ILO Director-General in 2013.
Set-up in 1919 for better working conditions and standards of living, the ILO is one of the oldest international organizations.
In 1946, the ILO became a special organization of the United Nations and won the Nobel Peace Prize in 1969.