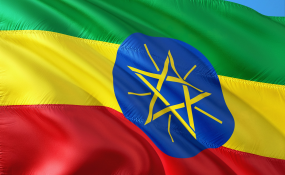 Photo: Pixabay
By Zelalem Girma
Ethiopia's economy needs to focus more on streamlining tax payment, increasing domestic input supply, and maximizing export markets among others to maintain its momentum as the fastest growing economy in Sub Saharan Africa, according to economists and officials.
The economy has proved that it is laid on a solid foundation and broad based growth as it has remained the fastest growing economy in Sub Saharan African recovering from three major and unprecedented levels of challenge namely drought, unrest and army worm infestation, economists explain.
In its late April report, the International Monetary Fund (IMF) confirmed that Ethiopia has remained at the top spot as the fastest growing economy in Africa registering 8.3 percent growth in 2017 fiscal year.
Dr. Wondaferahu Mulugeta
It also forecasted that the Healthy FDI inflows and strong public investment should keep activity buoyant in 2018 fiscal year to register 8.5 per cent growth, 8.3 in 2019 and 8.1 in 2020.
But the country is just experiencing a growth recovery from three major challenges that normally hamper the smooth progress of an economic development: drought that is unparalleled in the last 50 years, popular unrest that has never been seen before in the country as well as Fall Army Worm (FAW) infestation.
Now that these challenges have passed, will the economy continue with its rapid momentum as it is or needs more actions to maintain it?
An economist from Jimma University Dr. Wondaferahu Mulugeta told The Ethiopian Herald that growth is expected to stay high in 2017/18, as the country's Economy is built on solid foundation supported by sustained expansion in exports and investment.
Peace and stability has major role to enhance the rapid development of private sectors, and increase public confidence to advance their investments and consume productivity, he commented.
Yet, along with addressing the challenges of trade communities, the government needs to mobilize businesses to pay taxes that should be done through the three Es processes: Enumeration, Estimation, and Enforcing, he mentioned.
Dr. Wondaferahu said the FDI inflows and export-oriented industries can be expanded if the economic sectors are supported by continuing robust private investment in infrastructure, and improving agricultural productivity.
The economic sectors need to be supported by significant resource allocations to ensure poverty alleviation, enhance social safety net and other programmes, he commented.
Mobilizing domestic resources, enhancing financial intermediation, and improving the investment environment are the top priorities to register the anticipated economic growth in the fiscal year, Dr. Wondaferahu said.
The other economist Million Timer, from Development Bank of Ethiopia, stated that the number of domestic input suppliers should increase and the producers should also become exporters over the coming years, so that the country's economic growth could grow in many directions. For instance, coffee productivity is increasing time to time; hence, the revenue can increase as the production supply increases, he added.
Regarding the IMF report, Million says the presence of such kind of increment is motivating as compared to non-petroleum exporting African countries, though Rwanda and Botswana would attain better GDP than Ethiopia.
It could be possible to reach or increase from 8 to 10 per cent in the remaining two months if given priorities for selected sectors. Because, this does not mean little as compared to the GDP. For example, Europe, Asia and America grew by 0.2 up to 0.5 per cent.
On the other hand, inflation has existed in the construction sector last year. Metal products are imported from abroad, in that the possibility for getting foreign currency is uneasy for that matter. As the construction and manufa- cturing industries usually import metals from aboard, it is better to give priority for manufacturing industries than construction sectors; because the manufacturing industries grasp much manpower and need to produce more export items regularly.
Million Timer
In the last few years, the man- ufacturing industries like textile could not grow at expected level due to shortage of adequate productivity and lack of hard currency. Thus, linking domestic input suppliers with industries will have manifold advantage to the economy to increase revenue in a way producers export products abroad, he commented.
According to him, there are long and short term solutions for these challenges. The short term solution is solving the bottlenecks in the economic sectors and other serious challenges.
"If there is no any input in the country, the government or banks must find access for foreign currency either in credit or other means in order to make industries continue their production that was staggering due to lack of inputs."
In addition, exporting or selling of electric power to neighbouring country like Kenya is essential to tackle hard currency problems and contribute for the growth of the country's economy.
In his recent public dialogues, Prime Minister Dr. Abiy Ahmed stated that he will focus on tackling corruption, reducing bureaucracy, and opening the way for economic reforms in a bid to establish solid FDI inflows and sustain robust economic growth.
Corporate Communication Director with the National Planning Commission Zelalem Berhanie told The Ethiopian Herald that the government has remained committed to sustaining inclusive and pro-poor development strategy in the coming years to further scale up efforts in poverty reduction and employment creation.
According to the national macroec- onomic research findings, "the Ethiopian economy grew by 10.6 per cent for the last 14 consecutive years from 2005 to 2017. In addition, by the GTP II, the government planned to register an 11 per cent growth annually. Hence, the country could register a growth of 10.9 per cent last year," which is relatively similar to IMF's report.
According to the Director, this outstanding growth could be recorded due to the increasing of domestic saving, foreign direct investment, and the presence of stable and competitive market system in the country.
The development of the manuf acturing industry has indispensable role to create broad based job opportunity and improve citizens' income. That is why, the development of the manuf- acturing industry helps to improve the total growth of productivity and competitiveness of the overall economy, he noted.