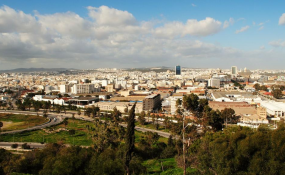 Photo: wikipédia
Tunis/Tunisia — A peaceful march on Sunday set out from the Human Rights Square at Habib Bourguiba Avenue to the Municipal Theatre at Habib Bourguiba Avenue to support the rights of foreign immigrants in Tunisia.
Organised by a group of associations composed of the Tunisian Forum for Economic and Social Rights, the Association for Leadership and Development in Africa (ALDA), the Association of African Students and Trainees in Tunisia (AESAT) and the Association Smart Africa in Tunisia, "the protest denounces the precarious situation faced by African immigrants in Tunisia," said Ramdhan Ben Amor, officer in charge of migration and information at the Tunisian Forum for Economic and Social Rights.
He said protesters demand the ratification by Tunisia of the UN Convention on the protection of the rights of migrant workers and members of their families and the establishment of a legal and institutional framework guaranteeing the rights of immigrants in Tunisia.
"African immigrants are victims of several forms of violation in Tunisia," he said, citing the violation of their rights to care, housing, work and regularisation of their situation.
"These violations have contributed to significantly lowering the number of African students in Tunisia from over 4,000 in recent years to 1,500 now," he said.
For his part, the Executive Director of the association Leadership and Development in Tunisia, Toure Blamassi called regularising the legal situation faced by several African students in Tunisia and the renewal of their residence permit.
He also advocated for the elimination of obstacles faced by African students and the improvement of their living conditions in Tunisia particularly in terms of care, accommodation and transportation.