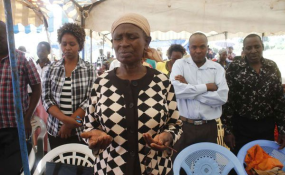 Photo: Ayub Muiyuro/The Nation
By Magdalene Wanja
Emotions ran high during a prayer meeting at Energy village yesterday in honour of the people who lost their lives in Wednesday's dam tragedy in Solai.
The prayers were held at the grounds where a PCEA church was situated before it was swept away by the raging waters.
The meeting brought together the affected families, friends, local leaders and the local administration who promised to ensure that the survivors get back to normal lives.
The Deputy Director of the National Disaster Management Unit, Mr Pius Masai, said that after meeting key stakeholders, they had agreed to down scale rescue resources and enter the recovery and construction phase.
SUPPORT
"Our aim now is to offer humanitarian support and exit strategies for the families," he said.
Governor Lee Kinyanjui said an interdenominational prayer session would be held on Wednesday. "We are inviting Kenyans to join us that day; to stand together with the Solai community in prayers," he said.
He said the 40 people reported missing had been accounted for after reconciliation of lists of those currently staying at Solai Boys Secondary School and bodies at Nakuru County and Nakuru County Referral Hospital mortuaries.
"However, our report desk remains open until we resettle the affected families," he said.
ID CARDS
He added that the focus now is on humanitarian assistance. "We are working to ensure the people are independent and will go back to their work and continue with their lives," he said.
Rongai deputy county commissioner Julius Kavita noted that the county government had waived mortuary and postmortem fees for the affected families.
He said a desk would be set up to assist on matters such as replacement of lost national identity cards.
A separate prayer meeting was held at Africa Independent Pentecostal Church of Africa (AIPCA) in Lanet. Church members held a fundraising meeting for the victims and promised to mobilise their branches countrywide for more assistance. The donations will be delivered to the affected families on Wednesday.
DISPLACED
Meanwhile, well-wishers continued flocking to Solai Secondary School where many of the affected families are camping. Local leaders, among them the area MP and the Ward Rep, Mr Peter Mbae, appealed for construction materials for the survivors.
At Solai High School, children affected by the tragedy were yesterday treated to fun activities like face painting, drawing, singing and dancing.
Ms Jacinta Wanjiru, a form four student who lost both her parents in the tragedy, said visits by well-wishers had kept her going strong. Ms Wanjiru is among more than 100 children who were displaced by the disaster.
DONATIONS
Childcare Worldwide Kenya director Michael Wafula said although it is necessary to visit the affected families, it is the children who require special attention.
"Most of them are traumatised, considering that they lost their siblings and friends, not forgetting that 22 children died -- 13 from one school," he said.
He added that more than 200 children require donations.
The children also had a session with counsellors who offered psycho-social support.