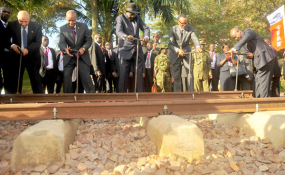 Photo: Daily Monitor
By Christine Kasemiire
Kampala — Local manufacturers risk exclusion from supplying raw materials for the Standard Gauge Railway (SGR) project if their products fail to meet required standards.
The SGR project is a mega railway transportation network that will be constructed by Chinese firm, China Harbour Engineering Company.
Out of 19 reinforcement steel manufacturers, only three including Roofings, Madhvani and Steel and Tube will produce raw materials for the project, after the others dropped out, citing inability to meet required standards.
Speaking at the third annual procurement summit in Kampala at the weekend, the SGR project coordinator, Mr Kasingye Kyamugambi, said the project has challenges in regard to implementation of the local content policy, especially with cement, reinforcement steel and sand.
He said most local products do not meet required standards, a key requirement for the contractor.
"The cement we have is not cement meant for the railway, we benchmarked from Kenya and found that Bambuli Plant in Mombasa had changed its manufacturing configuration to meet these [SGR] standards," he said.
Talks between SGR and cement manufacturers in Uganda only managed to convert Hima to change configuration to produce one specific type for the project. Yet the project, according to Mr Kyamugambi, will need eight types of cement.
He said this has forced them to get directives, as a legal cover to forego the local content policy, especially for products that they cannot obtain from here (Uganda).
Mr Kyamugambi made the remarks while emphasising the need for a new law, to cater for complex projects whose life cycle lasts as long as 100 years, saying Public Procurement and Disposal Authority (PPDA) law is not sufficient.
However, Mr Moses Ojambo, the PPDA director capacity building and advisory services, asked government to empower local manufacturers to boost their capacity instead of resorting to imports.
"Let government empower local companies so that they can meet required qualities and quantities," he said.