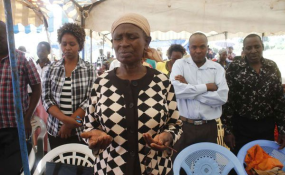 Photo: Ayub Muiyuro/The Nation
By Wanjiru Macharia
Nakuru — Kenyans have once again proven their generosity following the Wednesday night Solai Dam Tragedy that has displaced 450 families.
Forty-five people have been confirmed dead and their bodies recovered from the water's path while another 40 are missing.
There has been overwhelming humanitarian aid as people started arriving early Thursday morning with food and non-food donations.
Information technology played a major role as residents mobilsed themselves through WhatsApp Groups and arrived with aid way before the government and corporations came in.
Help from government, humanitarian and charity organisations such as Red Cross, Lions Club of Nakuru and World Vision has been over-pouring.
Nakuru County Government, Kenya Defense Forces and manufacturers such as Menengai Oil Refineries have also been giving humanitarian aid since the tragedy occurred.
Former chairman of the Lions Club of Nakuru, Shailesh Kumar said his organisation would continue giving aid until the families were resettled.
He said the affected families had asked for water for domestic use and his club sent several tankers.
"The displaced families have sufficient water for drinking because well-wishers have been bringing thousands of litres of bottles water," he said.
On Saturday, officers from KDF, National Youth Service and the Kenya Red Cross Society were still digging in the mud along the 10km stretch where the raging waters washed through.
"The search teams had dug up several points along the stretch but we have not recovered any more bodies today," said the head of operation, Rift Valley Regional Coordinator Mwongo Chimwanga.
Technical teams from KDF, Nakuru County Government and the national government also completed draining two dams at the Patel Coffee Estate Limited Farm in-line with directions from the Interior Cabinet Secretary, Fred Matiangi.
It has emerged that all the seven dams on the 4,000 acre farm were not licensed by the Water Resource Management Authority.