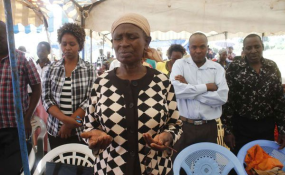 Photo: Ayub Muiyuro/The Nation
opinion
The private Patel dam broke its banks last week, sweeping away villages in Solai, Nakuru County, and causing the deaths of more than 40 innocent Kenyans, even as more than 200,000 people were displaced in flood-prone areas as a result of the ongoing rains.
The danger aside, however, if managed well, such dams have a myriad benefits. As in the case of Patel, earth dams are used for harnessing a fluctuating flow of flood or seasonal water and store huge amounts of water supported by embankments.
A convectional dam design follows a sequence of steps -- calculation of daily water use requirement, collecting monthly rainfall data, estimating catchment area water outflow, estimating evaporation and seepage losses, calculating required dam reservoir storage volume and determining dimensions and height of embankment based on selected dam site topography.
Vision 2030 provides concrete ideas on the infrastructural programmes for construction of earth dams to supply water for domestic, livestock and irrigation use in arid and semi-arid areas. But we must follow the standard requirements for earth dams, whether in private or public sites. For example, an environmental impact assessment (EIA) must be done to determine, analyse and present the environmental impact of earth dam projects and formulate remedial measures to mitigate the negative ones.
The beauty of EIAs is that it involves interviewing all key stakeholders and enhances public participation through incorporating views and concerns and the potential negative impacts are documented and the mitigation measures put in place.
The good thing with earth dams is that they provide reliable water supply for long, even during drought, and can solve food security and livestock deaths in the semi-arid areas. Water for human use is treated and, in some counties, such as Laikipia, they are stocked with fish and also used for horticultural farming. They play a significant role in the improvement of livelihoods.
Additionally, and very important, earth dams regulate and moderate the micro-climatic conditions of the immediate surrounding areas through increased humidity and cooling effects. However, they come with challenges and can cause increased cases of malaria and water-borne diseases.
The relevant authorities should regularly inspect the dams to ensure that they are stable and the mitigation measures are implemented appropriately to reduce risks to downstream communities.
Maina Mwari, Nyeri.
* * *
The Patel dam is above ground with earthen banks with word that there are others in the area that could burst due to the rains.
But even as we blame the farm owner, government officials who approved the construction of an above-the-ground dam with no reinforced concrete walls should be quizzed by the investigators.
When will the government ensure compliance to safety standards in construction to avert deaths?
Antony Alex Irungu, Pennsylvania. USA.