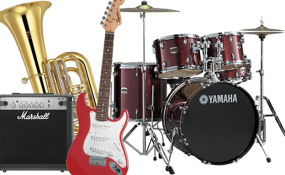 Photo: New Times
By Jean De Dieu Nsabimana
Primary school officials have failed to make use of musical instruments and still keep pianos in covers under pretext that they have no music instructors at their establishments.
The issue came to light when officials of Ministry of Education's Quality of Education Enhancement Awareness Campaign arrived in Rwamagana District.
2,000 digital pianos were donated to the government in October 2015 by Booyoung Co. Ltd, a Korean company, to help improve the quality of education and promote the musical education of the primary school students in Rwanda.
Each public primary school in the country was given at least one or two pianos.
"Students said that school officials denied them access to the pianos. Some said they are able to play the instruments, but they were not allowed to teach interested schoolmates," said MINEDUC delegates led by Laurence Uwitonze, during the awareness campaign at GS Nyarusange.
Laurent Nkerabigwi, headmaster of GS St Teresa of Child Jesus, Murambi in Muhazi sector, said his school is currently not able to teach the music because the teacher who had been trained "was relocated to be headmaster in another school".
"But teachers who had trained under him could still meet for more practice since he does not live far from here. So, in the near future, the students will start learning too," he promised.
"Collaborate with community"
Rwanda Education Board officials urged the primary schools officials to "get the instruments out of their covers and collaborate with community" or available musically skilled people to activate musical education in their institutions.
Dr Irenée Ndayambaje, Director General of Rwanda Education Board, says that the instruments were not provided to "some" schools because they did not have instructors, and recognises that the number of music teachers was still small.
"It is one of the most important educational materials, because music is one of the needed elements in Rwandan children educational process. We should not say that children will only need to study mathematics, sciences, they must be complete," he said.
"Music helps refresh the mind, but not only that, music is business today and plays a big role in people's lives," he explained.
Ndayambaje said piano education can help discover children's talents early. He said that even though the schools do not have music instructors, they should at least collaborate with the community.
"If the schools had good connection with the community, the people could help in teaching music to children for the time being. We have not found music teachers for all schools," he said.
Ndayambaje revealed that REB has plans to work closely with Booyoung to organize trainings for music teachers.