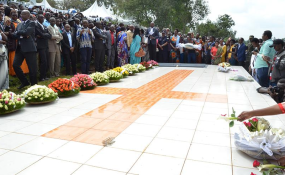 Photo: New Times
By Kelly Rwamapera
The number of families that were completely wiped out in at least 19 of the country's 30 districts now stands at 9,706, according to new findings by the graduate Genocide survivors' organisation GAERG.
These families were identified to have been composed of 42,647 members, all killed during the 1994 Genocide against the Tutsi.
The survey to identify these families looks at nucleus families - father, mother and children.
The new number was announced on Sunday as the organisation held a conference during which participants reflected on families that were completely wiped out during the Genocide against the Tutsi.
The organisation started recognising these families in 2009.
The conference, held in Kigali, brought together GAERG members, Genocide survivors, scholars, writers, artists, politicians and human rights activists under the theme "The Connection between wiped out families and Genocide ideology".
This is one of activities leading to the 10th Commemoration for the families completely wiped out during the 1994 Genocide against the Tutsi, which will take place at Nyarubuye Genocide Memorial in Kirehe District on the night of May 19.
Dr Jean Damascene Bizimana, the executive secretary of the National Commission for the Fight against Genocide (CNLG), highlighted several speeches and literature since 1950s to 1994 that sowed hatred and incited the extermination of the people they had labeled as Tutsi.
"Genocide perpetrators had an intention of completely wiping out the Tutsi," he said, giving an example of the speech by Genocide mastermind Jean Bosco Barayagwiza, who held several government positions, including being the leader of national radio and television.
"Barayagwiza called upon the Interahamwe to 'exterminate Tutsis such that future generations can ask parents how Tutsi looked like'" he mentioned.
The president for GAERG, Olivier Mazimpaka, said that the organisation does not easily get information about wiped out families and called upon professional researchers to intervene.
"Most of us were children who do not have clear information about neighbours who were wiped out," he noted.
Currently, GAERG works closely with IBUKA, an umbrella body for genocide survivors' associations, CNLG and local authorities to know the families that were completely decimated.
"But in a larger sense, we do not commemorate numbers because we may never cover them all. We rather commemorate what they would be in our society," Mazimpaka said.
A completely wiped out family in this case is one whose members were entirely killed during the 1994 Genocide against the Tutsi, with no one to continue the family lineage.
Since 2009, the families are remembered under the theme, "Ntukazime Nararokotse" (You will never be forgotten, I survived).
This year, GAERG identified 949 families whose 3,959 members were completely wiped out in Ngoma and Kirehe districts in Eastern Province.
They found that 704 families composed of 2915 people were completely wiped out in 14 sectors of Ngoma Districts and 245 families composed of 1044 people in the neighbouring Kirehe district.
Commemoration of completely wiped out families started in 2009, with an event at Ntarama Genocide Memorial in Bugesera District in Eastern Province.
Since then, these families have been commemorated in Nyamagabe, Karongi, Kigali City, Gatsibo District, Musanze, Rulindo, Gakenke, Gicumbi, Ruhango, Muhanga, Kamonyi, Rutsiro, Rubavu and Nyabihu.