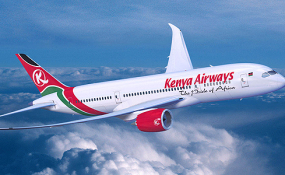 Photo: Nation
By Margaret Njugunah
Nairobi — Starting May 15, Kenya Airways will execute a new baggage policy that will entitle its intra-Africa guests a 20 per cent discount on any extra bag purchases up to 24 hours to departure.
In a statement, the national carrier says guests will also be entitled to one free bag in the economy class cabin at a maximum weight of 23 kilograms per passenger within the continent.
Kenya Airways Group Managing Director and CEO Sebastian Mikosz says the move is aimed at providing simplified and discounted competitive prices for their passengers.
"The new baggage policy is part of Kenya Airways strategy to provide simplified and discounted competitive prices for passengers who book their extra baggage, any time before 24 hours to departure whilst enhancing customer service for our guests."
The intra-Africa one free bag allowance will however not apply to passengers travelling to and from other continents.
Business class passengers will maintain their allowance at two free bags at 32 Kilograms maximum weight per bag.