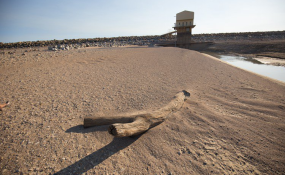 Photo: Ashraf Hendricks/GroundUp
While there has been a slight increase in dam levels, the City of Cape Town on Monday cautioned that usage had also increased.
"Although there has been a slight increase in dam levels of 0.5% to an overall level of 21.4% because of some rainfall and lower evaporation rates, we need to continue to stretch the remaining water in our dams as we simply do not know how much rain we will receive over the winter months," read a statement from the City.
The collective consumption over the past week was 554 million litres of water per day, reflecting a 6.7% increase from consumption of 519 million litres last week.
It places Cape Town 104 million litres above the usage target of 450 million litres per day that the national Department of Water and Sanitation has set.
The City said by Monday dams were just 0.1% below water supply level on the same day last year.
"This is an incredible achievement of water saving by the people of Cape Town, given that the dam levels at the start of the year were at 31% compared to 46% last year."
According to the City, water users had to stay alert. It said that "there may be a bit of complacency creeping in".
"[We] call on all Capetonians to remain on course with their savings efforts. As Cape Town has shown the rest of South Africa and the world already, we are capable of meeting challenges head-on and pulling together to do what is required."
The City said that while current initiatives to save water were working, it still couldn't predict how much rainfall would be received over the course of winter.
"We simply cannot afford to relax our savings efforts."
Source: News24