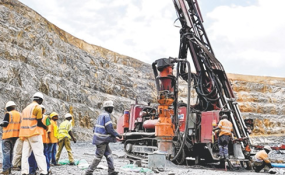 Photo: The Citizen
East Africa Metals Inc, a Vancouver based, mineral exploration company focused on exploration and development projects, announces receipt from Tetra Tech Canada Inc of positive results from Preliminary Economic Assessments (PEA) for its three gold projects in Ethiopia.
Separate Preliminary Economic Assessment (PEA) studies have been received for the Company's Mato Bula Gold-Copper, Da Tambuk Gold and Terakimti Gold Heap Leach projects in the Tigray Regional State of Northern Ethiopia.
Each of the projects demonstrates robust economics utilising industry standard mining and processing technology, according to Andrew Lee Smith, CEO of East Africa.
"These PEA studies indicate very positive results that demonstrate the significant commercial development potential of East Africa's Ethiopian projects, and provides a sound basis for ongoing development engineering, with the ultimate objective of establishing commercial production" stated Andrew. "Collectively, under the development scenario described in the PEAs, these three projects present the opportunity to develop mining operations and revenue over the next eighteen to 24 months and position EAM to continue the expansion of the scope of development and the current resource".
The company has received approval for a Mining Licence at Harvest and is under application for two mining licences at Adyabo, in Northern Ethiopia