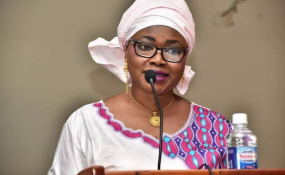 Photo: This is Africa
The 2016 to 2018 electoral cycle is now over. 886578 are registered as voters. Supplementary registration of voters did not take place under the new dispensation. Hence many young people who are now 18 have not had the opportunity to exercise their right to be registered as voters. Electoral reform is absolutely essential and general registration should follow the electoral reform so that the nation would have a proper register of voters. The results of the mayoral/chairpersonship elections have been revealed but as we go to press, we are yet to receive the official version of the IEC.
Out of 199,950 voters in the KM only 67,255 voters participated. 132,695 did not participate. Out of the 67,255 that voted, 29,325 voted for the UDP and 37,930 voted for other candidates.
In Banjul, there are 22,731 registered voters, 10,766 voted while 11,965 did not vote. Out of 10,766 that voted, 2836 voted for UDP while 7930 voted for other candidates.
In Brikama Area Council, 67,500 voted out of a total of 281,115 registered voters, while 213,615 did not vote. Out of the 67,500 that voted 32,698 voted for UDP while 34,802 voted for other candidates.
In Kerewan Area Council, there are 101,717 registered votes, out of which 32,806 voted while 68,911 did not vote. Out of the 32,806 that voted, 16,486 voted for the UDP while 16,320 voted for other candidates.
In the Mansa Konko Area Council, the number of registered voters is 49,198 and out of these only 14,993 voted. 34,205 did not vote. Out of the 14,993 that voted, 10,882 voted for UDP while 4111 voted for GDC.
In the Janjangbureh Area Council 19,594 registered voters voted. Out of the 19,594 that voted, 9145 voted for the UDP while 9,936 voted for other candidates.
In the Kuntaur Area Council only 17,166 registered voters voted and out of these 6265 voted for the UDP while 10,901 voted for the other candidates.
In the Basse Area Council there are 115,185 registered voters and 27,426 participated in the election. Out of the 27,426 that voted, 14,109 voted for UDP while 13,317 voted for other candidates.
This reflects very poor turnout by voters. What is responsible for the voter apathy? Would it have been different had the councillorship and mayoral/chairpersonship elections been held together? Do people feel that the outcome would not be different even if they had voted? The lack of participation by the majority of voters is a real threat to democracy in The Gambia. Hence maximum effort should be made to address the problem of voter apathy in the next electoral cycle.
Once people lose faith in the electoral system, assumption of office and removal from office through the ballot box will be elusive. That will undermine democracy and all the gains of 2 December 2016.