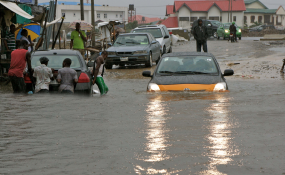 Photo: ICIR Nigeria
By Marc Nkwame
Arusha — RAINS have eased? Probably, but international weather observers warn that Tanzania, Kenya and Uganda should not sigh with relief yet, as more thunderous precipitations are expected later this month.
An analysis by the global Famine Early Warning Systems Network (FEWS NET) and United States Geological Survey (USGS) on the regional forecast and current soil saturation indicates that further flooding is likely to occur later this May in coastal and western regions of Kenya, the Mount Elgon region of Uganda and Kenya, the Lake Victoria basin which also covers Tanzania, eastern DRC, as well as parts of Rwanda and Burundi.
The FEWS-NET and USGS report made available here indicate that floods may also be experienced in the central regions and riverine areas of Juba (South-Sudan) and Shabelle regions in Somalia and parts of Ethiopia.
"Further crop damage and displacement are likely in the mentioned areas," the global meteorological report warns. Similarly, the United Kingdom's Meteorological Office forecasts 100-200 mm of rainfall over parts of the eastern Horn in mid-May, which would likely trigger further flooding around major cities, including Dar es Salaam, Mombasa (Kenya) and Mogadishu (Somalia).
However, according to UKMO forecast, incidents of flooding will decline in southern countries of East Africa, as rainfall moves northward by next June. But still, some flooding is still likely in June in the Lake Victoria Basin, Mount Elgon Region, North-eastern Kenya, and the coastal strip of central Somalia.
The reports indicate that heavy rainfall has persisted across East African region since March, with rainfall totaling to more than 200 per cent of average in many areas, causing widespread flooding, resulting in fatalities, displacement of hundreds of thousands of people, and damage to infrastructure and crops.
The report says that flooding has occurred in 40 counties of Kenya, displacing over 311,000 people, with the most significant impacts occurring in Tana-River, Kilifi, Garissa, Mandera, Siaya, Homa-Bay, Turkana, and Nakuru counties. In Ethiopia, severe flooding was reported in parts of Oromia, Somali, and Southern Nations, Nationalities, and Peoples (SNNP) regions, causing significant damage to infrastructure.
It is estimated that over 97,000 people were displaced. In Somalia, more than 14,000 hectares of crops have been destroyed in riverine areas of Hiraan, Middle and Lower Shabelle, and Middle and Lower Juba, where nearly 220,000 people have been displaced. "In Uganda, Rwanda, Burundi, Tanzania, and DRC, rainfall totals are around 150 per cent of average.
However, these countries typically receive greater cumulative rainfall than the Eastern Horn, and 150 per cent of average rainfall is equivalent to extremely high rainfall totals, around 250-750 millimetres," says the report. According to the Global Forecast System (GFS), moderate to heavy rainfall is expected to persist across much of East Africa through the end of May.