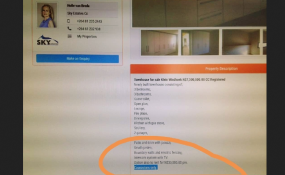 Photo: Contributed
Real estate company Sky Estates had to explain itself last week after a public outcry over an advert it published of a property in Klein Windhoek, where it called for white buyers only.
The advert that triggered a storm on social media was published on the company's website last week, advertising the sale of a newly built N$7,5 million townhouse in Windhoek's posh Klein Windhoek suburb.
The apartment has three bedrooms, three bathrooms, a guest toilet, lounge fireplace, dining area, kitchen with a gas stove, scullery and two garages, including a patio and deck with a jacuzzi and small garden.
Following the publishing of the advert, a storm brewed on social media, with many potential buyers labelling the company racist, and demanding that it be held criminally liable under the Racial Discrimination Prohibition Act 26 of 1991.
Sky Estates blamed the "mistake" on a new employee, who is a personal assistant to real estate agent Holle van Breda, and listed a mandate with direct preferences from a property owner.
"We have dealt with the employee in accordance, and immediately rectified the situation. We apologise for this mistake. We are a firm believer not to discriminate, and hope to restore faith by our continues (sic) hard work and good reputation we have built up over the years," reads the apology on the company's Facebook page.
However, clients on social media were not forgiving or convinced that it was a mistake on the part of the company, with some stating that the company should take full responsibility, while others demanded to know in what way the employee had been dealt with. Others asked how an employee can come up with such a requirement without having received an instruction for such in the first place.
"No employee, new or old, would suck such a hateful and discriminatory requirement out of their thumb and feel comfortable adding it to the advert without feeling justified to do so. That the new employee even thought of it and added it is a clear indication that sentiments of racial discrimination are entertained by the company, and employees know it," wrote another user.
A lawyer at the Weder, Kauta and Hoveka Incorporated law firm, Patrick Kauta, yesterday said the company could be prosecuted for the racially charged advert.
"In an independent Namibia, you cannot disqualify people using race as a criterion. There is no place for such racism in an independent Namibia, and blaming it on a new employee should not be the excuse," he stressed.
Attempts to get a comment from Van Breda proved futile as she had not responded to calls or messages sent to her by yesterday.