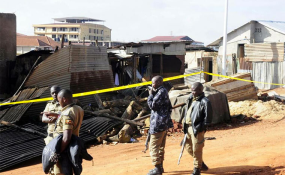 Photo: The Observer
By Andrew Bagala
Kampala — The police have surrendered to care homes 60 children they rescued after storming a mosque near Usafi Market in Kampala City nearly two weeks ago.
A joint security force on April 28 raided the mosque in which they suspected kidnappers and killers of Suzan Magara were holed up.
Two people shot dead and 36 suspects arrested during the raid. Magara was killed by her kidnappers even after they had taken a Shs700m ransom in February.
Mr Vicent Ssekatte, the spokesman of the Directorate of Criminal Investigations, said some civil society organisations were helping the police counsel the radicalised children.
The police, however, declined to reveal names of care centres that have received the children, but said some parents of the rescued children had recorded statements with detectives.
Most mothers of the rescued girls said their husbands took away the children and handed them over to the suspects.
Police medical examination of the rescued girls found seven of them were pregnant.
Mr Ssekatte said at least 154 children and women have since been rescued from different radical cells within Kampala City, with 86 of the children and women being accommodated at the CID headquarters in Kibuli.
Relatives of the children are required to come with proof of relation before they talk with or pick up the children.
So far, only eight of the children have been handed over to their parents after police verification.
"We told relatives to bring documents like birth certificates or local council letters to prove that they are related to the children," Mr Ssekatte said.
Since their arrest, the suspects have remained in detention, but some of the suspects were taken to Kayunga District on Monday to show detectives some land they allegedly bought using the Magara ransom money.
The police now say they have all suspects in the Magara killing except two who are still on the run.