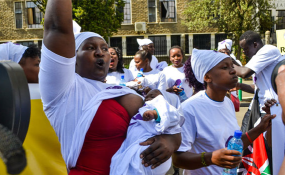 Photo: Sam Wanjohi/Capital FM
By Sylvania Ambani
A group of activists on Tuesday held demonstrations in the city centre to protest against a restaurant that allegedly threw out a woman from the establishment for breastfeeding her baby without covering herself.
Olive Restaurant located along Accra Road came under the spotlight after Ms Betty Kim took to social media on May 7 to rant about her ugly experience at the restaurant while she was breastfeeding her one-year-old daughter.
In her posts, she condemned the waiters for their "heartlessness".
APOLOGY
"I'm very disappointed by Olive Restaurant after humiliating me when breastfeeding my baby. Those waiters should be aware not all babies are covered while being fed. The approach was pathetic, it was raining outside na siwezi nyonyeshea mtoto kwa choo," she wrote.
The hotel's management, which had earlier denied knowledge of the incident, later gave an apology: "On behalf of Olive Restaurant I would like to offer my sincere apologies to women especially mothers. We are aware of the incident and are conducting internal investigations to get to the bottom of it," said Mr Moses Mbugua, the manager.
RIGHT OF BABIES
The demonstrators started their march from Uhuru Park's Freedom Corner, making a stop outside Parliament Buildings before heading to the restaurant.
"I saw the conversation on social media about a woman who was asked to stop breastfeeding her child in a restaurant because they thought that it was not appropriate. And I decided to join other women because breastfeeding is a right," said Mama Njoki from Mathare.
Ms Mildred Owiso, one of the organisers of the campaign, said that the incident was among the many cases of women who breastfeed in public areas being mistreated and it was high time the government took action.
"We demand that the right of babies to feed is taken into consideration in all public and private spaces. We, as women and mothers, declare that we will not breastfeed our babies in washrooms. We will do it where we want, when we want and how we want," said Ms Owiso.