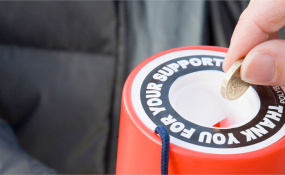 Photo: The Observer
By Collins Omulo
Opposition leader Raila Odinga has said that the creation of African Continental Free Trade Area , as a tool for driving industrialisation, economic diversification and development in the continent was long overdue.
Mr Odinga, who was speaking at Cambridge University, UK, on Tuesday, said Africa was determined to ensure that, rather than spend more energy and time negotiating complex trade agreements with the rest of the world, the continent would encourage intra-Africa trade.
The Orange Democratic Movement leader said investment in intra-Africa trade was a way of getting Africa out of aid trap. He said that this was the only way of moving Africa away from the narrative of being a place where strong economies of the West and East come to get their raw materials.
"We recognise that one of the most urgent tasks facing Africa is to create opportunities for the youths. In all these homegrown initiatives, we want partners, not patrons," he said.
HANDSHAKE
Mr Odinga has said that his 'handshake' with President Uhuru Kenyatta was informed by the need to find homemade solutions to the challenges Kenya faced.
Mr Odinga said that the closing of ranks comes at a time when the current generation of Africans are rising to the challenge of making the continent take charge of its affairs in the face of an interconnected yet disengaged world.
Mr Odinga said that as leaders, they realised that solutions to Kenyan problems would never come from outside but from a honest assessment of realities prevailing in the nation.
"We see our agreement, which is now commonly referred to as the "handshake", as a possible guide that other African countries could borrow to address their circumstances. We hope that the handshake will inspire other African nations with similar problems," said Mr Odinga at Cambridge University, UK on Tuesday.
He said that they agreed to confront the historical realities that had been swept under the carpet from independence. Mr Odinga said it was time for Kenya to reflect on its performance in the search for justice, unity, peace, liberty and prosperity.
DIVERSITY
"We came to the conclusion that our diversity appeared destined to be a curse to ourselves today and to our children tomorrow unless we confront them. We recognised that the differences were becoming too entrenched yet no two Kenyans can agree on the origins of the differences and what they portend," he said.
The ODM party leader explained that they narrowed the challenges to strengthening devolution and tackling corruption, marginalisation, divisive elections, security and lack of national ethos.
He said that the primary role of the 'Building Bridges Initiative' would be to create a stable nation by giving an opportunity for frank discussions of the questions that have bedevilled Kenya for decades.
Mr Odinga, however, said that there would be resistance because the issues they hope to tackle go to the core of how Kenya has been ran over the past five decades.
"Many political careers have been made out of the foundation we are now seeking to shake and rebuild," he said.