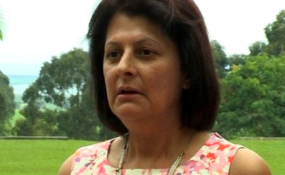 Photo: Daily Monitor
Members of Parliament have demanded the establishment of a select committee to investigate allegations of slavery involving Ugandan girls mainly in Dubai, the largest and most populous city in the United Arab Emirates (UAE).
The proposal gained momentum after the Butambala MP, Mr Muhammad Muwanga Kivumbi told Parliament that during a recent visit Dubai by MPs on the Budget Committee, they found a labour recruitment centre, "which for all intent and purpose resembles a well-organised slave market".
He said that when they went to Jaira State, they found girls from different countries parked in small buildings where they were "being offered" to the highest bidder.
Mr Kivumbi also claimed that they established that Ugandan girls were being mistreated, which barbaric treatment had forced 16 girls to commit suicide between February and August 2017.
Mr Kivumbi's submissions were prompted by a statement by the International Affairs Minister, Mr Henry Okello Oryem, dismissing claims of the existence of slave markets in UAE.
The minister had dismissed the allegations as "incorrect and a misinterpretation" of what is on the ground.
Mr Oryem said Uganda's Mission in the UAE had checked and found no slave market in the country.
This comes days after Uganda's envoy to UAE, Ms Nimisha Madhvani was recalled for "consultations" in Kampala.
Ms Madhvani's troubles started in April when she reportedly told Ugandan MPs who had visited UAE that Ugandan girls were being sold in slave markets which statements reportedly angered the UAE.
Mr Oryem told Parliament that the slavery allegations have prompted UAE to raise a diplomatic protest to Uganda, saying the accusations cast the country in bad light.
Speaker Rebecca Kadaga asked why there is no labour agreement between Uganda and UAE yet many Ugandans are working there.
Ms Kadaga tasked Oryem to visit the alleged slave market to establish facts.
Mr Oryem appealed to MPs to discuss the "matter soberly" which request angered several MPs.
Ms Kadaga said it is in the interest of Uganda and the UAE to establish the truth. Mr Oryem promised to travel to the UAE on Friday.
However, the Mbale Municipality MP, Jack Wamanga Wamai demanded that Ms Kadaga sets up a select committee to visit UAE and establish what is happening as opposed to sending Mr Oryem who reportedly has interest in the matter.
Ms Kadaga ruled that she would communicate her final decision on the matter to MPs on Wednesday.