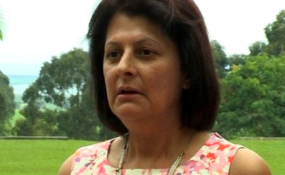 Photo: Daily Monitor
By Risdel Kasasira
Kampala — The Ministry of Foreign Affairs has said Uganda's Ambassador to the United Arab Emirates (UAE), Ms Nimisha Madhvani has only been recalled for "consultations and not withdrawn" from her ambassadorial post, as some media outlets have been reporting.
A Tuesday statement by the ministry says a number of media outlets had misrepresented the recall of Ms Madhvani for consultations back home.
"Amb. Madhvani was recalled for consultations and not withdrawn from the UAE as a duty station," the letter reads in part.
On May 10, the Acting Permanent Secretary of foreign Affairs Isaac Sebulime, in a leaked letter told Ms Madhvani to handover office and return to Kampala for "consultations".
Ms Madhvani's troubles started in April when she told Ugandan MPs who had visited UAE that Ugandan girls were being sold in slave markets which statements reportedly angered the UAE.
The MPs expressed disappointment over "slavery and trafficking of Ugandans in the UAE during a meeting with Internal Affairs Minister, Gen Jeje Odong in Parliament.
But Foreign Affairs says there is no diplomatic spat between Uganda and UAE or complaints by the UAE against Ambassador Madhvani.
"Uganda values her relations with the UAE. These relations remain strong and will keep growing," the statement signed by Ms Margaret Kafeero, the ministry spokesperson reads.
Ms Kafeero said such recalls are normal when there is an urgent issue that requires consultations between the headquarters and an ambassador or any other Foreign Service officers.
"Recalls for consultations are frequent and routine within the Foreign Service as they give the Ministry and our ambassadors or Foreign Service officers ample time to carry out in-depth discussions, review obtaining situations and receive instructions on the bilateral relations of both countries which written correspondence often cannot do," Ms Kafeero said in the statement.