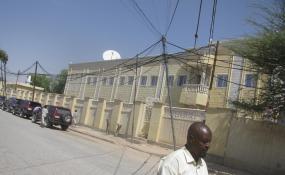 Photo: Mohammed Amin Jibril/IRIN
The United States government has called for an end to renewed fighting between Somaliland and Puntland over the disputed border town of Tukaraq,
In a tweet by the US Mission in Somalia hours after fighting was reported in Tukaraq Washington called for negotiations between Puntland and Somaliland.
"US Mission in Somalia encourages immediate ceasefire around Tukaraq; urges Somaliland, Puntland dialogue and partnership with local communities to end conflict" the US diplomatic mission in Somalia said.
On Tuesday morning fighting erupted in the Sool region town of Tukaraq. Four people were killed and dozens injured in the fighting.
Breakaway region of Somaliland President Muse Bihi declared victory over Puntland forces at an address during the self declared republic's National Day and threatened to declare war with Somalia over Tukaraq.
Somalia's president Mohamed Abdullahi Farmaajo issued a statement calling both sides to ceasefire and initiate talks with elders.
Last week UN Chief met both Puntland President Abdiweli Gaas and Somaliland's Bihi to resolve the border conflict that started in January.