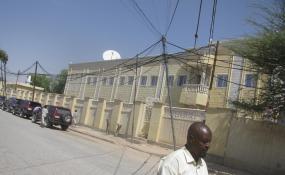 Photo: Mohammed Amin Jibril/IRIN
Somalia President Mohamed Abdullahi Farmaajo has called for an end to armed conflict between Somaliland and Puntland forces over the disputed border town of Tukaraq that resumed on Tuesday.
In a statement Farmaajo asked both sides to negotiate and resolve the conflict that started in January.
"The killings has to come to stop and everything should be resolved through negotiation," Farmaajo said ion a statement shared to newsrooms.
The President said it was unfortunate the renewed fighting came as Muslims ushered the holy month of Ramadan.
A combative President of the breakaway region of Somaliland had earlier declared victory in the Tuesday fighting.
"They intruded us. We have fought them, repulsed them and impounded their weapons.If they want war we are ready. I will teach them the lesson that I taught Afweyne(Siad Barre)" Bihi threatened in his Somaliland National Day address.
This is the first time that the President has addressed the Tukaruq conflict which erupted in January while he was on a tour of Garowe less than 90km from the disputed border town.
UN's Chief in Somalia Michael Keating had visited both Somaliland and Puntland presidents in an effort to avert farther conflict.