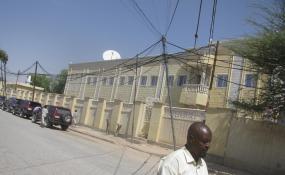 Photo: Mohammed Amin Jibril/IRIN
Leaders of the breakaway region of Somaliland and the semi autonomous Puntland have traded war of words following resumed conflict in the disputed strategic town of Tukaraq.
In his address during the Somaliland National Day President Muse Bihi blamed Puntland and Somalia of incursion
"They intruded us. We have fought them, repulsed them and taken away their weapons" he said during the celebrations in Hargeisa claiming that the breakaway region had been attacked 25 times in the past.
"If they want war we are ready. I will teach them the lesson that I taught Afweyne(Siad Barre)" Bihi threatened.
Puntland Office of the President issued a statement in a rejoinder to Bihi's address.
"The President of Somaliland has previously announced his policy of deliberately provoking armed conflict in disputed areas in a cynical bid to restore legitimacy for the colonial era borders of the defunct historic British Somaliland" the statement said.
"President of Somaliland has ordered his forces to launch an unprovoked attack to territory belonging to Puntland for a second time all the while he continues to mislead the people of Somaliland by starting that he is fulfilling his previous electoral campaign pledges"
Renewed fighting between Somaliland and Puntland troops erupted on Tuesday morning woutside Tukaraq with casualties feared.
UN's Chief in Somalia Michael Keating had visited both Somaliland and Puntland president seeking solution to the conflict that started in January.