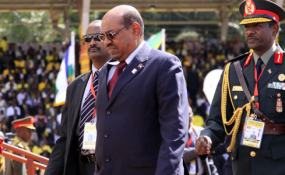 Photo: Morgan Mbabazi/Daily Monitor
Khartoum — The ministers, state ministers, who were appointed lately in the national accord government, were sworn in Wednesday before the President of the Republic, Field Marshal Omer Al-Bashir, in presence of the First Vice - President and National Prime Minister, Lt. Gen. Bakri Hassan Salih, the Minister of the Presidency, Dr. Fadul Abdalla Fadul, and the Deputy Chief Justice.
Addressing the newly-appointed ministers, President Al-Bashir said that the Sudanese people always looks for the better and deserves sacrifices for their welfare and progress.
He expressed the Presidency pledge to support the new ministers in carrying out their duties properly.
President Al-Bashir has affirmed the keenness to surpass the crises and to protect the nation's security and stability.
The new Minister of Foreign Affairs, Al-Dirdiri Mohamed Ahmed, has spoken on behalf of the ministers and state ministers asserting their commitment to live up to their responsibilities will all honesty and dedication.