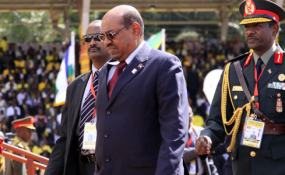 Photo: Morgan Mbabazi/Daily Monitor
Khartoum — The Assistant of the President of the Republic Dr. Faisal Hassan Ibrahim on Wednesday urged the newly appointed ministers and governors to pay more attention the questions related to the livelihood of the citizens.
Faisal met the new officials in the presence of the heads of the various sectors in the political parties and heads of the secretariats
Dr. Faisal told them that the executive has to pay close attention the living conditions of the people as well as to the development of the economy and the increase of production and productivity and that their executive bodies should work in harmony at the different levels.
The meeting was also addressed by the new state minister for Justice Nimat Hoairis and the governor of West Darfur State, Hussein Yassin Abu Sirwal who stressed that they would do their level best in executing those directives
He said they would also work to implement the outcome of the National Dialogue conference and to create political accord in the states and within their respective governments.