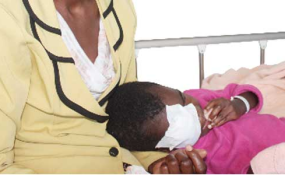 Photo: The Citizen
By Gladys Mbwiga
Dar es Salaam — Experts in Tanzania have raised concerns about rising cases of eye cancer also known as Retinoblastoma, which commonly affects children.
They released statistics yesterday to show that the disease contributes to more than 50 per cent of deaths among children under the age of 5. Speaking during commemoration of the week of "Retinoblastoma" awareness which started on May 13 and is expected to end on May 19, an eye specialist in Dar es Salaam, Dr Anna Sanyiwa, raised caution about the disease.
Dr Sanyiwa said that more children die from retinoblastoma because they are diagnosed late.
She explained that retinoblastoma is an eye cancer that affects the retina of the eye and it may be noticed through the pupil appearing to be white when light is shone into the eyes. "85 per cent of the children who are affected by the eye cancer visit health centres six to 10 months after discovering the first signs which is usually too late," said Dr Sanyiwa.
In developed countries 90 to 98 per cent of children with retinoblastoma get treated and are cured because of early diagnosis where a red reflex examination is conducted few hours after they are born, she revealed.
Speaking during the same event, the Chief Medical Officer (CMO) Prof Mohammed Kambi has urged health service providers to conduct red reflex examination on children's eyes whenever they visit the clinic checkups to save them from dying from the disease.
"When a child is suspected to have an eye problem, they should ensure that the child does not go home before seeing a specialist, and they should believe a parent when they suspect their child has retinoblastoma and give them referrals for further checkup," he said.
He further made a call to parents to not hesitate whenever they see anything suspicious in their children's eyes and seek early medical treatment for further treatment.