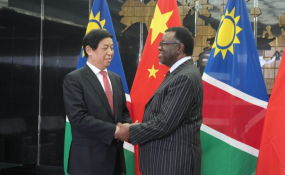 Photo: The New Era
By Albertina Nakale
Windhoek — President Hage Geingob says Namibians should embrace a new era of bilateral relations between Namibia and China that have recently matured into a comprehensive strategic partnership, defying armchair critics who have made it their habit to criticise the good relations between the two countries.
This comprehensive strategic partnership of cooperation was elevated between China and Namibia when Geingob visited that country in March following an invitation for a state visit by the President of the People's Republic of China, Xi Jinping, for the two to discuss pertinent issues relating to trade as well as economic and political relations.
Geingob at the time was quoted by China's official Xinhua News Agency as saying China is not colonising Africa and that growing cooperation between the world's second largest economy and Africa benefits from China-funded development projects on the continent.
During a courtesy call yesterday at State House by visiting Chairperson of the National People's Congress of the People's Republic of China, Li Zhanshu, Geingob said even though Namibia is a small nation China has accorded it the highest level of partnership called 'comprehensive strategic partnership for cooperation'.
He said President Xi told him that Namibia and China are equal partners.
"That's why we have now been elevated to comprehensive strategic partnership for cooperation ... I was told it's the highest level accorded to partners China is dealing with all over the world," Geingob noted.
Therefore, he said, Namibians ought to be proud of this high level of friendship, which laid a solid foundation for the long-term sound and stable development of bilateral relations.
He explained that this cooperation means there will be comprehensive consultations, discussions, strategic planning or objectives, partnership of equals, accountability and transparency.
"Namibia-China are meeting on equal footing. I am saying it deliberately: you cannot go to the United States and meet the President, the Vice-President, the Speaker, it cannot happen, it's reality. We must appreciate that [comprehensive strategic partnership]," he urged Namibians.
He also lashed out at some detractors who criticised the donation of 30 Chinese-make cars by Li to Namibia's anti-poaching unit. Some critics feel the cars are of 'low quality' and will not be to handle Namibia's treacherous gravel roads. Analysts have in the past criticised the relationships that China has painstakingly established over the years with its African allies, simply so to protect Western interests because the West has in the past given loans to Africa with unacceptable conditions.
"I saw about 30 cars on TV and other camping equipment. Bring yours and we add to others. Don't just criticise, do your part. Therefore, we say thank you for your cooperation. We need some assistance," he reacted.
Geingob said he was honoured to receive the chairperson, saying it was not his first time to meet him.
"I am very proud he is in Namibia to continue our valued all-weather friendship. Namibians sometimes question us why we continue thanking those who were with us in difficult times and why we talk about good friendship. The truth never changes. If it were true during the time of struggle that China and others were with us, then that truth can never change and that's 100 years. So keep thanking those who were with us because we can't change the truth," he remarked.