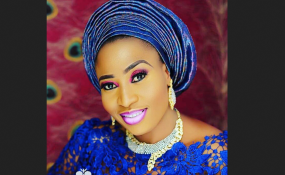 Photo: Premium Times
By Jayne Augoye
Yoruba movie star, Aisha Abimbola aka Omoge Campus, is scheduled to be buried in Canada today (Thursday).
Actor, Saidi Balogun, who is president of The Golden Movie Ambassadors of Nigeria revealed this on his Instagram page on Thursday.
He said Omoge Campus, who was the vice president of the organisation before her demise, would be buried at exactly 2:30 p.m Canadian time (8:30.pm Nigerian time).
However, a candlelight procession/artiste night will be held on May 24 in her honour in Nigeria.
Ace comedian, Ali Baba, also posted a Whatsapp conversation between himself and the deceased actress, which took place on May 3. In the chat, the actress admitted that she had a health issue.
Meanwhile Nollywood actress, Lola Alao, has debunked the allegation that the family of the late actress needs the financial support of the public to bury her.
Ms Alao, in a video shared on the Instagram page of fellow actress, Ronke Ojo-Anthony, popularly called Ronke Oshodi Oke, said that the late actress suffered from breast cancer and didn't make her terminal condition public because she was a private person.
She also said that the actress was a Canadian citizen, and that the country bore the cost of her medical treatment.
Ms Alao, who said she was speaking on behalf of the deceased's family, asked the public to ignore anyone soliciting for funds for the burial of the late actress.
She said, "We do not need any support from anyone."
Ms Abimbola died on Tuesday, leaving behind two children, siblings, and a parent.
R.I.P #Ayims
A post shared by Ali Baba (@alibabagcfr) on May 16, 2018 at 9:24am PDT
The GOLDEN MOVIE AMBASSADORS OF NIGERIA (TGMAN) wishes to announce to the public that the remains of Amb.AISHA ABIMBOLA( omoge campus) TGMAN Vice President. Will be laid to rest today,Thursday the 17th may 2018. By 2:30 pm Canadian time which is 8:30pm Nigerian time. This is being handled in conjuction with the Canadian government and families of the deceased based in Canada and TGMAN. However, a candle light procession/ artiste night will be held in her honour on Thursday 24th, may 2018, while fidau prayers will be offered on Friday 25th, may 2018. ( T- shirts will be available for d artiste night/ candle light programmes) . information on the venues and modalities for collection of T- shirts will be communicated ASAP. Signed.. Saidi Balogun. TGMAN President.
A post shared by Amb Saidi Balogun (@saidibalogun) on May 17, 2018 at 3:13am PDT
Thanks you sis @lola_alao please tell them
A post shared by Ibironke Ojo-anthony (@ronkeoshodioke) on May 16, 2018 at 3:38pm PDT