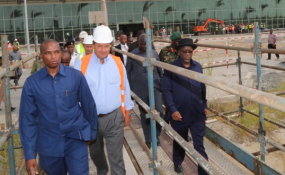 Photo: State House/Daily News
By Faustine Kapama
Dodoma — THE government has ruled out the likelihood of foreigners being employed in sensitive areas like airports, ports and borders, with Prime Minister Kassim Majaliwa stressing that only Tanzanians would be given the first priority even in all sectors.
Speaking in Parliament here yesterday, he said the government was addressing the employment question rationally, by giving priority to Tanzanians, pointing out, however, that some opportunities were open to foreigners under certain conditions. Elaborating, he said employment opportunities for foreigners related to sectors in which Tanzanians were not adequately skilled.
Hestressed, however, that the opening for that provision was limited to five foreigners per institution. "This arrangement is managed by the Prime Minister's Office. We will continue to manage it to ensure that Tanzanians get the first priority for employment in all sectors across the country, and that engagement of foreigners is related only to areas where there aren't adequately qualified citizens," Mr Majaliwa said during the question-and-answer session.
He was responding to a question from Leah Komanya (Special Seat-CCM), who stated that for a long time, a wave of foreigners had entered Tanzania's labour market. She explained that there were some indications that foreigners were now working even in sensitive areas such as airports, ports and border points.
The legislator pointed out that that situation could compromise the country's security, thereby seeking to know whether the government was ready to investigate the matter and take appropriate actions.
In his response, the premier explained that the government was sustaining vigilant surveillance and protection of the sensitive areas mentioned by the MP to ensure that no foreigners were employed there. "
We must employ Tanzanians to protect all border entry and exit points, to ensure that nothing illicit can be smuggled in, and to curb whatever moves may be made to compromise national security and lead to a breach of the peace," he said.
He assured Tanzanians that in the case of foreigners working in the cited areas, they related to firms undertaking specific sanctioned activities, but on condition that no sufficiently competent Tanzanians were available to undertake the tasks.
He also explained that the department responsible for the issue under his office would conduct regular inspections to block any cheating, either by an investor or anyone who had access to the country, that may be attempted